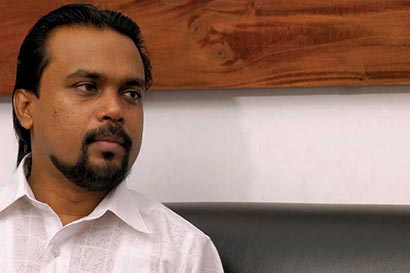 Housing, Engineering Services, Construction and Common Amenities Minister Wimal Weerawansa yesterday fired another salvo against Treasury Chief P. B. Jayasundara claiming that the latter was in the practice of drawing massive loans and for the current year alone an overdraft to the tune of one billion rupees had been obtained.
Minister Weerawansa said that there was a high level of corruption at the Finance Ministry and those who thought of themselves no end as economic experts did precious little for the princely salaries they drew at the expense of the public. The Treasury Chief seemed to believe that the panacea for all economic woes of the county was borrowing more and more, he said.
Minister Weerawansa was addressing the 50th Annual General Meeting of the Sri Lanka Audit Service Association yesterday at the New Town Hall, Colombo 07.
The country was faced with formidable challenges in all spheres and the provision of welfare to the masses had become a daunting task; the situation had taken a turn for the worse during the last three decades, Minister Weerawansa said. Haphazard borrowing, he said, was not the solution.
Minister Weerawansa lashed out at the Treasury Chief for what he called trying to fool the people. "But, he cannot fool all the people. There are some servile bureaucrats who even grovelled before him seeking favours."
Minister Weerawansa paid a glowing tribute to former Assist Auditor General A. H. M. L. Ambanwela, who was critically injured in an acid attack while conducting a probe into a financial fraud in Kandy. Ambanwela, the minister said epitomized courage, devotion and efficiency.
The government was providing free education, free health care and other welfare facilities to low income people through "Samurdhi", but when excessive borrowing by the Treasury would jeopardize the welfare measures, Minister Weerawansa warned.
Courtesy: The Island