Support US backed resolution against Sri Lanka, says DMK
Posted by Editor on February 27, 2013 - 9:44 am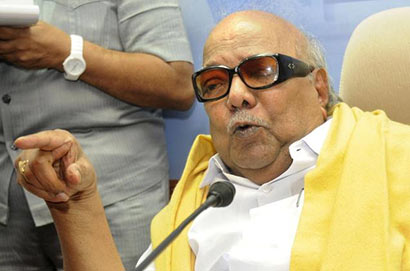 Submitted by Walter Jayawardhana
CHENNAI: Accusing the UPA of its 'laxity' in playing an active role on the issue of alleged rights abuse in Sri Lanka, its key ally DMK today asked government to support a US backed resolution against the island nation at the United Nations Human Rights Council meet at Geneva in March.
Party chief M Karunanidhi, responding to the alleged cold-blooded killing of slain LTTE chief V Prabhakaran's 12 year-old son Balachandran, said this was proof enough that "(Sri Lankan President) Rajapakse is a war-criminal."
"Countries need not search for more proof that Rajapakse is a war criminal as the atrocity like gunning down of Balachandran cannot be seen anywhere else. There is no record of such a brutal murder in any country," he said in a statement.
He said images in UK-based Channel 4 documentary had moved political leaders in the state to tears. "How can one point a gun at the teenager?" he asked.
"Channel 4 is making clear to the world various atrocities committed by the Sri Lankan Army and the face of Rajapakse, who claims himself to be a noble man, is exposed," he said. The island nation's army had been spreading lies that the boy was killed in battle, he said.
On the US sponsored Lanka-specific resolution at UNHCR, he said many countries had supported it, but "it is a matter of regret India that has not officially declared its stand."
"There was a natural desire in the state for India to play an active role in UN on this matter by virtue of the people sharing an 'umbilical cord' with Lankan Tamils, he said.
"…The Indian government seeming to show laxity on this matter and welcoming Rajapakse, who is the reason for all such atrocities, cannot be tolerated," he said in an apparent reference to the Lankan leader's recent pilgrimage to India.
UN had written to various countries seeking their support on the rights abuse issue against Colombo even as it has not taken any action in the last one year on such charges,he said.
"Therefore, when countries like the US come forward to take action against Sri Lanka, Indian government should also come forward to strengthen such initiative rather than shielding it. This is the desire of people of Tamil Nadu, this is their request," the 88 year-old leader added. (Courtesy: Financial Times)
Latest Headlines in Sri Lanka