Sushma Swaraj holds meeting to solve fishermen issue with Sri Lanka
Posted by Editor on July 30, 2016 - 8:08 am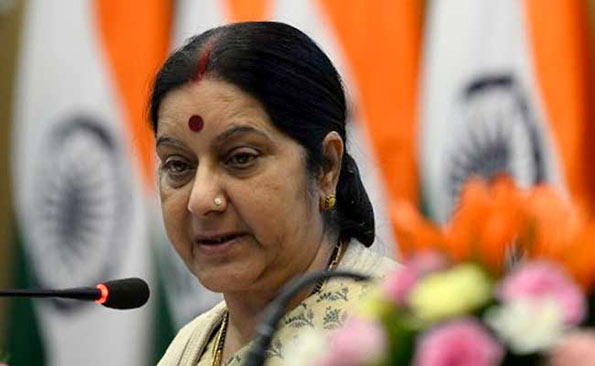 In an effort to find a permanent solution to the vexed fishermen issue with Sri Lanka, External Affairs Minister Sushma Swaraj yesterday (29) held a high-level meeting with various stakeholders and deliberated on its different aspects. The meeting was attended by representatives of Tamil Nadu, Puducherry, Andhra Pradesh, Karnataka, Kerala, Odisha and 13 representatives from the Fishermen Association of Tamil Nadu.
It was also attended by officials of Prime Minister's Office, Coast Guard, ministries of Agriculture, Home, Defence, External Affairs and the Indian Navy. The 9th India-Sri Lanka Joint Commission Meeting on February 5 had agreed on the need to work out a permanent solution to the fishermen issue.
"External Affairs Minister chaired a meeting of internal stakeholders earlier today (29) afternoon to discuss the way forward towards a permanent solution to the fishermen issue between India and Sri Lanka," MEA Spokesperson Vikas Swarup said. He said release of 77 Indian fishermen by Sri Lanka on July 25-26 and their repatriation to India set the immediate backdrop to the meeting.
"The discussions between stakeholders on the Indian side focussed on different aspects requiring attention, including the livelihood concerns of Indian fishermen and introduction of sustainable fishing practices," said Swarup. He said all stakeholders agreed with Swaraj that it was important to resolve the issues quickly.
"It was agreed that Ministry of Agriculture and Farmers Welfare/ Department of Animal Husbandry, Dairying and Fisheries would take action on specific measures suggested to meet livelihood concerns of Indian fishermen. "There was agreement amongst all stakeholders that practical and pragmatic solutions needed to be pursued so that fishermen on both sides can pursue their livelihood in a safe, secure and sustainable manner," said the MEA spokesperson.
(Source: Indian Express)
Latest Headlines in Sri Lanka