Suspected leaks at GCE 'O' Level handed over to CID for probe
Posted by Editor on December 17, 2012 - 7:24 am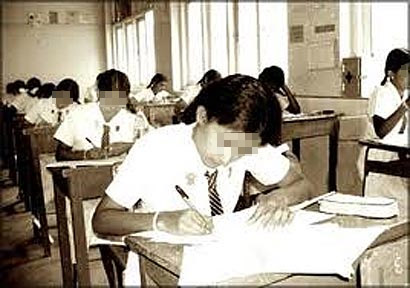 The Ceylon Teacher Services Union yesterday alleged that GCE Ordinary Level Science I question paper had been leaked and demanded an impartial inquiry into it.
Addressing a press conference in Colombo yesterday, General Secretary of the CTSU, Mahinda Jayasinghe said that a model question paper provided to students prior to the examinations by a private tuition teacher who conducts classes in several areas including Colombo and Gampaha had 19 identical questions out of 40 in the Science I question paper given to Ordinary Level candidates on Saturday (15).
He said that the private tuition teacher in his revision classes had distributed the model question paper which had 50 probable questions. Of them, 19 questions which he had allegedly marked as certain questions at the December examination are identical with the questions in the GCE paper. "They are exactly the same and do not have a difference of words or images," Jayasinghe said.
The General Knowledge model paper prepared by the same tuition teacher had 40 questions and 38 out of them appeared in the question paper prepared by the Department of Examination, he said.
Jayasinghe pointed out that the leak of the questions was unfair by the majority of more than 500,000 candidates currently sitting for the examination at 4048 centres country wide and demanded the authorities responsible rectify the injustice.
Examinations Commissioner General W. M. N. J. Pushpakumara, when contacted for comment said that the case had been handed over to the Criminal Investigation Department to ascertain whether any leak had occurred.
He said he had received complaints from trade unionists and parents. On the basis of those complaints, two deputy examinations commissioners had made a complaint to the CID and to the IGP.
Future course of action with regard to the paper would be determined based on receipt of a report from the CID after investigations, Pushpakumara added.
Courtesy: The Island
Latest Headlines in Sri Lanka