Talks only if Sri Lanka releases fishermen: CM
Posted by Editor on March 21, 2014 - 7:59 am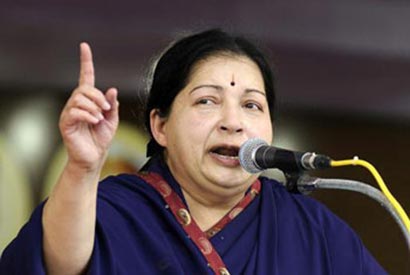 Chief Minister Jayalalithaa on Thursday said the next round of talks between Tamil Nadu and Sri Lankan fishermen, scheduled for March 25, can take place only if all the Indian fishermen apprehended by the Sri Lankan Navy on Wednesday are released.
In a letter to the Prime Minister, Manmohan Singh, she said the latest incident definitely required his personal intervention.
She exhorted him to take concrete and decisive action to ensure immediate release of the 74 fishermen apprehended on March 19 with their 18 boats. Only such a decisive action, taken at the earliest, would facilitate the smooth conduct of the fishermen-level talks. "I wish to reiterate categorically that in order to ensure that the talks are conducted in a conducive atmosphere, all the apprehended Indian fishermen in Sri Lankan custody should be released."
Ms. Jayalalithaa recalled her letter of September 20 last year in which she had proposed fishermen level talks between the two countries. She said due to her persistent efforts, fishermen who were apprehended by the island navy after the talks on January 27, along with their boats, were released by the Sri Lankan courts. The Tamil Nadu government also released 39 Sri Lankan fishermen and their 18 boats. Consequent to the release of Tamil Nadu fishermen, the State conveyed to the Centre that the revised date for the fishermen-level talks would be on March 25 in Colombo.
While the State government had taken such a positive and accommodative stance, it was most disconcerting and shocking to learn that the Sri Lankan Navy had resumed its "marauding acts of assault and apprehension of innocent fishermen from Tamil Nadu." She was dismayed by the report that, in two separate incidents on March 19, the Sri Lankan Navy had apprehended 74 fishermen and their 18 boats, all belonging to Tamil Nadu and Puducherry". (The Hindu)
Latest Headlines in Sri Lanka