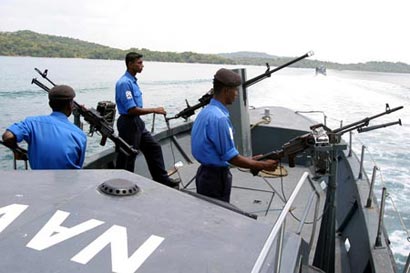 A day after the repatriation of 140 Tamil Nadu fishermen with their 31 boats, the Sri Lankan Navy arrested as many as 75 fishermen with their 18 vessels on Wednesday night.
The fishermen from Rameswaram, Pudukottai, Thanjavur and Karaikal were fishing on the high seas, when the navy personnel from Talaimannar, Kankesanthurai, Kayts and Karainagar arrested them on the charge of poaching in the Sri Lankan waters, sources here said.
Those arrested included 25 fishermen from Rameswaram and 50 fishermen from Thanjavur, Pudukottai and Karaikal with 13 boats, the sources said adding the Rameswaram fishermen were detained in Talaimannar, while the others were at Kankesanthurai.
As the second round of talks between the representatives of Tamil Nadu fishermen and their Lankan counterparts to find a solution to the dispute over fishing in the Palk Bay scheduled to be held in Colombo on March 25, the fishermen are likely to be let off on Thursday, the sources said.
The arrest comes on the day when the Indian Coast Guard repatriated the remaining 32 fishermen. With this, the ICG completed the repatriation of all the 172 fishermen arrested since January 30 after the first round of talks on January 27 in Chennai, setting the stage for the second round of talks. (The Hindu)