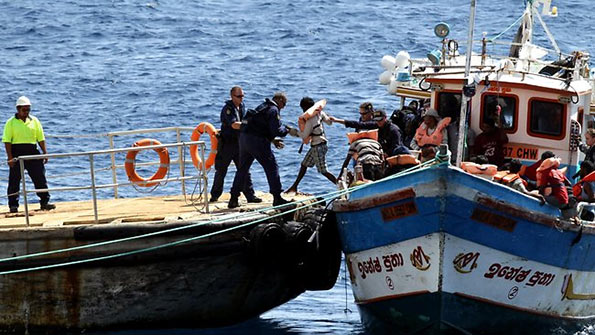 A Tamil asylum seeker appears set for deportation to Sri Lanka after the UN committee against torture withdrew a request to Australia to halt his removal while it investigated the risk of him being tortured upon return.
Shantaruban, currently held in immigration detention in Melbourne, has been in Australia since arriving by boat in 2012. A notice of intention to remove from Australia has been issued against him for Thursday 22 February.
Shantaruban's claim for refugee status has been rejected. But he says he has been unable to properly present his claim for protection, because he was initially fearful to declare his association with the separatist Liberation Tigers of Tamil Eelam, or the Tamil Tigers.
Australia issues deportation order for Tamil asylum seeker despite torture fears
When Shantaruban later sought to present evidence of his involvement with the LTTE, it was ruled inadmissible because he had not declared it earlier.
Other former members of the LTTE have declared their association and have had their claims to persecution recognised by the Australian government.
In October last year the UN committee against torture issued an interim measure request, formally asking that Australia "refrain from returning [Shantaruban] to the Republic of Sri Lanka while his complaint is under consideration".
The UN, several national governments and human rights groups have consistently raised serious concerns over the return of Tamil asylum seekers to Sri Lanka, particularly those with known links to the LTTE.
But Australia's permanent mission to the UN in Geneva wrote to the committee this month, arguing Shantaruban's "claims are not substantiated" and "that it is not necessary to take the interim measures requested".
It said "there were not substantial grounds for believing [Shantaruban] faces a real risk of irreparable harm if returned to Sri Lanka".
In response, the committee – on 19 February, three days before Shantaruban's slated deportation – wrote to the Australian government, lifting the interim measure and effectively clearing the way for Shantaruban's removal from Australia.
Shantaruban arrived in Australia by boat in 2012. Having been released to live in the community, he was re-detained in 2015 and has remained in immigration detention since.
He fled Sri Lanka fearing repercussions from government security forces for his involvement with the LTTE, a separatist army that fought a brutal, and ultimately unsuccessful, 26-year war for independence until 2009, when it was defeated.
The Sri Lankan government has consistently denied mistreatment of returning Tamils is occurring.
"Come back. All is forgiven," the Sri Lankan prime minister, Ranil Wickremesinghe, said of Tamil asylum seekers when he visited Australia last February. "They [Tamils who fled the country] are welcome to return to Sri Lanka and we won't prosecute them."
But Aran Mylvaganam, spokesman for the Tamil Refugee Council, said the council had appealed to the UN committee against torture to reconsider its decision.
"I am dismayed that the UN would accede to the Australian government's request," he said.
Mylvaganam said Shantaruban's mental health had been seriously damaged by his long-term detention and that, nine years after the end of Sri Lanka's civil war, persecution of Tamils continued in Sri Lanka.
He said it was "almost certain" Shantaruban would face arrest and mistreatment if returned.
"It is unreasonable for the committee against torture to accept the testimony of the Australian government while ignoring eyewitness testimony of refugees in this case. I can only hope the UN has made some administrative mistake in not considering the additional evidence submitted."
The Tamil Refugee Council has also re-sent an earlier submission asking for reconsideration of Shantaruban's case to the committee against torture.
The submission was originally sent to the committee- in response to the Australian government seeking to have the interim measure removed – in December, but appears not to have been received, according to correspondence seen by The Guardian.
The Tamil Refugee Council argues that if this submission has not been received, Shantaruban's circumstance may not have been properly considered.
His intention to remove notification for Thursday remains in place.
A spokesperson for the Department of Home Affairs declined to comment on specific cases but told the Guardian: "Australia does not remove people to their country of origin where it would be inconsistent with Australia's protection obligations, including that of non-refoulement, in accordance with our international human rights law obligations."
(The Guardian)