Tamil diaspora in Toronto to protest again
Posted by Editor on May 5, 2011 - 10:09 am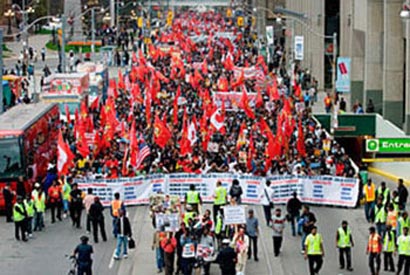 Tamils are planning a large demonstration in Toronto on Friday to support a United Nations panel's call for a probe of alleged war crimes committed near the end of Sri Lanka's conflict with the separatist Tamil Tigers two years ago.
In a recent report, the three-member UN panel cited "credible allegations" that both sides violated international humanitarian and human-rights law during the final months of the 26-year conflict, which ended with the Tigers' defeat in May of 2009.
The report said "tens of thousands" of civilians were killed in the conflict zone in the island country's Tamil-dominated northeast. Most died due to government shelling that allegedly targeted no-fire zones, hospitals and relief sites operated by the UN and Red Cross, the panel said.
The Tigers, meanwhile, refused to allow civilians to flee the war zone, made them targets by conscripting them to help bolster Tiger defences, shot dead those who tried to escape and set up their artillery near civilian gathering points.
"The demonstration is to ask the international powers, especially America and others, to make sure that the international community gets together and acts upon [the report]," said David Poopalapillai, spokesman for the Canadian Tamil Congress, one of several Tamil groups behind Friday's event.
It is scheduled from 2 p.m. to 8 p.m. for University Avenue, near the United States consulate. Tamils held mass protests in the same location during the final weeks of the war two years ago.
Toronto is home to a reported 200,000-plus Tamils, the largest such community outside Asia. The Tigers, whom the federal government banned as a terrorist group in 2006, relied on that community for donations of millions of dollars to fund the insurgency, Globe and Mail reports.
Courtesy: Ada Derana
Latest Headlines in Sri Lanka