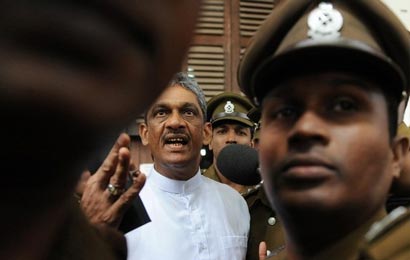 Former commander of the Sri Lanka army, Sarath Fonseka say that he is prepared to face allegations levelled against the military on the report compiled by United Nations (UN) Secretary General's panel of experts.
Speaking to journalists from prison custody, former general said that he is willing to take responsibility for the actions of the soldiers under his command.
Agrees with accusations of report
"I am ready to face the allegations in Ban Ki Moon report against the armed forces of Sri Lanka", Fonseka told the reporters at Colombo High Court.
He said that he agrees with accusations the report has made against the government of Sri Lanka.
The report by the panel of experts focuses on alleged war crimes committed by both the Sri Lankan armed forces and Tamil Tigers during the months leading up to the defeat of the rebels in May 2009.
Cut-outs in Washington DC
The government says that the military inflicted no civilian deaths during the final stages of its victory.
"Claims about violations of democracy and human rights are not new. We had raised those allegations long before the UN".
Commenting on the death of the leader of al-Qaeda, former commander said that he congratulated the American forces for killing Bin Laden. "It was an efficient military operation", he said
"Somehow I don't think Obama will put up cut-outs of himself in Washington DC or send the military commander home", added the former commander.
Thousands of civilians dead
In an earlier interview with the BBC Sandeshaya, Fonseka called for punishment of anyone found guilty of war crimes. "The forces I commanded had never committed war crimes", say the former commander.
UN Expert report say that they have credible evidence of estimated 40,000 civilian deaths during the last stages of the war that ended in May 2009.
Estimates say that as many as 100,000 people were killed during 26 years of war.