Tamil Nadu sends back Lankan kids: Expulsion angers sports fraternity
Posted by Editor on August 5, 2014 - 8:05 am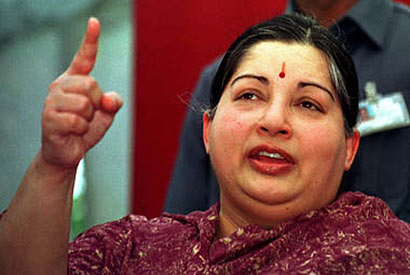 CHENNAI: The junior Sri Lankan cricket team that was sent back from Chennai in the early hours on Monday isn't a case in isolation. Such instances have turned into a recurring theme in the state, with politics becoming the biggest player in the sporting arena.
Chief minister J Jayalalithaa has a reputation for encouraging sports and sportsmen from various disciplines, but on the Sri Lankan issue, she has not budged. In February 2013, she refused to host the Asian Athletics Championship because Sri Lanka was one of the participating teams. The decision followed protests in the state after chilling pictures were released showing late LTTE chief Prabhakaran's son just before his alleged murder.
Monday's decision to send back 14 Sri Lankan children was criticized by V Baskaran, who captained the Indian hockey team to gold in the 1980 Moscow Olympics. "Firstly we must understand that in this case we are talking about players who are in their early teens. Who would have harmed these kids if they played here? It is unfortunate that this has now turned into a norm whenever Lankan players are involved. If arrival of Lankan athletes in the state disturbs us so gravely, why aren't flight services between Chennai and Colombo suspended altogether? Why do these sentiments don't bother us when business deals are solemnised?" Baskaran asked.
This politicisation of sporting events has increased in recent years. In September 2012, Jayalalithaa had ordered two football teams who were undergoing training in the state to be sent back. The directive came after one of the teams, Royal College of Colombo, played a friendly match against the Chennai Customs team in the city. The chief minister also went on to suspend the stadium official for allowing the visiting team to play the game.
And just ahead of IPL 2013, the state announced that no Sri Lankan player would be allowed to play in Chennai. Chennai Super Kings' home matches stayed in the city but the other teams were unable to use their top Lankan players for the Chennai leg. Mumbai Indians (which had Lasith Malinga), Kolkata Knight Riders (Sachitra Senanayeke), Sunrisers Hyderabad (Kumar Sangakkara, Thissara Perrera) had to drop some of their top stars for the Chennai matches.
Two play-offs supposed to be held in the city had to be moved out because the other franchises were not keen to play the knock-outs without their top players. Not even officials —umpires, match referees, support staff from Sri Lanka — were allowed in Chennai for the tournament. CSK too had to drop their Lankan recruits — Nuwan Kulasekara and Akila Dhananjaya. Since then, CSK have never bought a Sri Lankan player at the auctions, even though Muttiah Muralitharan was a big hit in the first three seasons.
"Close to two decades ago, I remember giving away prizes at a junior meet here which had a teenaged (Mahela) Jayawardene, along with other Lankan players who went on to represent their national side. These are crucial years for budding sportspersons and a setback of this nature is bound to leave a scar behind," added Baskaran.
"Without summarily dismissing local sentiment, it is important that sport is kept out of political distrust. The administration cannot go against the concerns of its people but the purpose of sport to transcend barriers and unify stands defeated if such things keep happening," former national table tennis champion Arjuna Award winner V Chandrasekhar lamented.
But for now, no one's listening.
(Times of India)
Latest Headlines in Sri Lanka