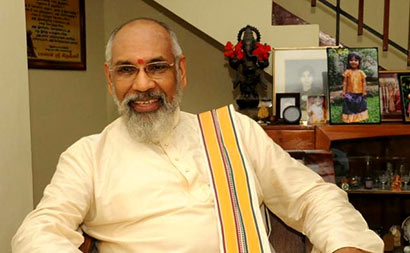 Northern Province Chief Minister C.V. Wigneswaran says that even though security concerns should be left to the Central Administration in any Country, it should not transgress the limits of protection of the Country to a protracted pursuit of purposeful military occupation with political undertones in place.
Delivering a speech after welcoming Indian Prime Minister Narendra Modi at the Jaffna Public Library, he also emphasized that the 13th Amendment "can never be the final solution" and that the path to ultimate resolution and settlement will be "long and arduous."
Wigneswaran stated that Modi's forthrightness in wanting the full implementation of the 13th Amendment when he met then President Mahinda Rajapakse, after his ascension to power, was "a step in the right direction" though the path to ultimate resolution and settlement is going to be long and arduous.
"Thirteenth Amendment can never be the final solution."
The Chief Minister stated that after assuming office as Prime Minister, Modi dismantled centralized planning process to facilitate greater performance and productivity among the States in the Indian Union.
"We are no doubt happy you are yourself a proponent and an advocate of devolution. That exactly is what we are agitating for in Sri Lanka," he said.
"The current 13th Amendment Framework and the existing Sri Lankan constitutional architecture that had evolved since the first Republican Constitution of 1972 without the consent and participation of Tamils of North and East of our Country, poses formidable challenges and hindrances in realizing the quantum of devolution required to fulfill the needs and aspirations of the Tamil Speaking People of North and East of Sri Lanka."
He stated that the Indian Constitution provides for the facilitation of sustainable development, internal security, law and order, policing and protection pertaining to lands and so on within the State.
"Our inability to function in our Province to the extent you were able to help Gujarat under the Indian Constitution needs to be understood."
"Especially the inadequacies of the Thirteenth Amendment," Wigneswaran said.
The former Supreme Court judge stressed that the "emaciated" Thirteenth Amendment has not brought the required and expected devolution to the North and East.
"Even today parallel administrative structures exist one directed by the Centre and the other by the Province despite the appointment of an amiable Governor," he said.
"We seek positive action to be taken to resolve our problems," he said while proposing talks among the Indian Government, Sri Lankan Government and the NPC and the EPC to find ways of resolving the central problem of the Tamil speaking people in an innovative and creative manner
"We seek justice and fair play to be established in the political arena and the constitutional framework in Sri Lanka to live with equity, equality and dignity."
"Even though security concerns should be left to the Central Administration in any Country it should not transgress the limits of protection of the Country to a protracted pursuit of purposeful military occupation with political undertones in place."
(Ada Derana)