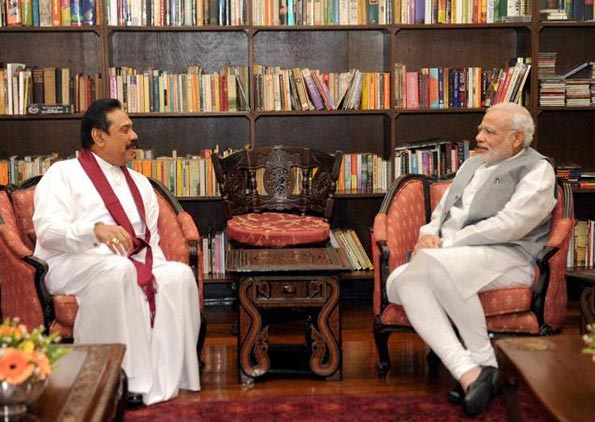 In a personal gesture, Prime Minister Narendra Modi ended his two-day visit to Sri Lanka on Saturday with a meeting with the former Sri Lankan President Mahinda Rajapaksa, who was ousted from power in elections in January.
The meeting, requested on behalf of Mr. Modi by Indian officials, comes just days after Mr. Rajapaksa, in an interview to The Hindu, accused RAW of conspiring to organise the opposition against him.
The one-on-one meeting at India House in Colombo lasted about 15 minutes. Officials told The Hindu that Mr. Modi wanted to meet Mr. Rajapaksa "as a matter of courtesy", given that "they had a personal equation after three meetings last year." Officials declined to comment on the meeting, None of the Prime Minister's aides were present during the meeting.
Before leaving for Delhi, Mr. Modi attended a reception for the Indian community and Sri Lankan officials. Speaking to The Hindu at the function, Sri Lankan Ports and Aviation Minister and former cricket captain Arjun Ranatunga said he hoped the visit would lead to much closer ties between the two countries and closer transport links. During the visit, Mr. Modi announced that India would reciprocate e-visas on arrival for Sri Lankans and Air India would begin direct flights. However, restarting ferry services are still stuck in negotiations. "Our governments are also joined by our commitment to fight corruption," Mr. Ranatunga said adding that the coalition government in Sri Lanka took "inspiration" from Mr. Modi's election campaign in 2014.
Also at the function, senior Tamil National Alliance leader R. Sampanthan described Mr. Modi's visit as "timely", saying it had "put the focus on the need for a resolution to the Tamil question, including the need to implement the 13th amendment for devolution in the Constitution and beyond it." Asked about Mr. Modi's meeting with Mr. Rajapaksa, who the TNA opposes, Mr. Sampanthan said it was "good that Mr. Modi met all sections of the polity as a resolution to the problems will need consensus."
(The Hindu)