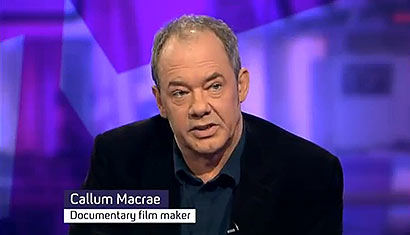 Callum Macrae, the director of the controversial documentary 'Sri Lanka's Killing Fields' said that the new Sri Lanka government is making fantastic advances towards reconciliation and he is happy that the people had shown courage and bravery by defeating Rajapaksa regime.
"By dismissing the former government, the Sri Lankan masses have clearly indicated that they do not accept repression, corruption and nepotism", he noted.
In an exclusive interview with 'The Sunday Island' after screening the Sinhala version of his 'Sri Lanka's Killing Fields' part two 'No Fire Zone' at the British parliament on last week, Macrae said that the present Sri Lanka government is showing a significant improvement by reinstating the rule of law in the country.
However, he expressed his doubts whether the government is  capable of doing enough to address the critical issues relating to war crimes and finding a bold political solution.
He said the reason behind launching the Sinhala version of his documentary is to prove that this film is not fabricated. "I believe that the vast majority of Sinhala people as much as the Tamils want to live in peace, they want reconciliation, justice and to find political solutions to the divisions and injustices which caused this war in the first place.
"The first step in this direction is truth and justice. Therefore, we think it is vitally important that this film should be seen by many Sinhala people as possible so that they can understand what really happened, they can see that this film is neither a fake nor an invention. They can also see that this film doesn't take one side", he said.
"We criticized the Tamil Tigers too. We accused them of committing war crimes and for using suicide bombers against civilian targets. It is important that the truth reaches the people. Then, they will be in a position to try and seek justice and political solutions", Macrae said.
He said that he has no faith in any internal inquiry. "There should be an independent, international inquiry, which wins the trust of all communities. It is not unreasonable to ask for an independent inquiry. It is the best way forward.
"The judicial system in Sri Lanka does not recognize war crimes, crimes against humanity and genocide. I am not saying these things happened. It is up to the court to decide. It has to be able to investigate them. Until those things are incorporated to the Sri Lanka penal code, it's not capable of mounting an independent inquiry", the director explained.
Likewise it has to sign up to the International Criminal Court. That doesn't in anyway compromise the sovereignty of the country any more than the other 60 odd countries that signed it, Macrae said.
"I am a journalist who has made investigations, unearthed evidence and produced a story. When the government said Balachandran was killed in the crossfire, we managed to produce evidence that he was captured alive. We have been able to constantly prove that our evidence was correct and the government's denials were wrong", he asserted.
"I am being told that my story is concocted. I was threatened with death, all sorts of things happened to me. As a journalist, I defend my story and I know my story is correct. I am not a campaigner. I am certainly none of the nonsense said about me being funded by the Tigers. This is sort of extraordinary as my film also refers to war crimes, suicide bombing and conscripting child soldiers and so on by the LTTE. These are laughable accusations", he said.
"Nonetheless, my position is that I will continue to defend my story and as new evidence emerge, I will continue releasing the new evidence", Macrae said.
(The Island – by Sujeeva Nivunhella)