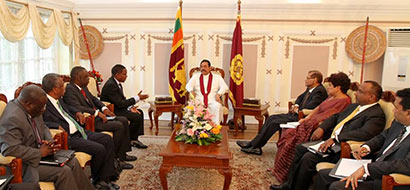 The Minister for Foreign Affairs and International Cooperation of Tanzania Mr. Bernard K. Membe called on President Mahinda Rajapaksa at Temple Trees yesterday (July 21) evening.
At the outset, Mr. Membe congratulated Sri Lanka on the success of the Commonwealth Heads of Government Meeting (CHOGM) 2013 and told the President of the "fond memories" the Tanzanian delegation has from that visit to Sri Lanka.
President Rajapaksa thanked Tanzania for its participation in CHOGM 2013 and also for its continued support to Sri Lanka in international forums.
The Foreign Minister further said that what they saw when they arrived in Sri Lanka was vastly different to what the media reported, adding that even after the past eight months, he sees "significant changes."
The President and Foreign Minister Membe also spoke of the challenges countries face during post-war periods. Mr. Membe said a number of African nations are facing difficulties dealing with issues that arise after conflicts.
"You have made significant changes in humanitarianism, peace and stability, and the economy," Mr. Membe said about Sri Lanka's post-war experience.
While conveying greetings of Tanzanian President Jakaya Kikwete, Foreign Minister Membe said Tanzania was extremely satisfied with the bilateral relations with Sri Lanka and looks forward to further strengthening those ties.
Several high-level officials from the Tanzanian Ministry of Foreign Affairs and International Cooperation accompanied Mr. Membe.
Minister of External Affairs Prof. G.L Peiris, Secretary to the Ministry of External Affairs Mrs. Kshenuka Senewiratne and Sri Lanka's Ambassador in Uganda (who is also accredited to Tanzania) Mr. V. Kananathan were present for the meeting.