Temporarily suspend animal sacrifice at Munneswaram: court orders
Posted by Editor on September 13, 2011 - 2:39 pm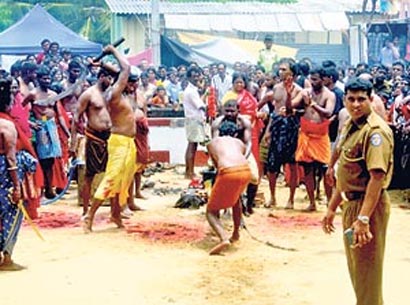 Chilaw Additional District Judge R.M. Jayawardana has issued an order temporarily suspending the annual rituals of animal sacrifice to be held today (September 13) at the Sri Bhadra Kali Amman Kovil in Munneswaram, Chilaw.
The order had been issued after considering a petition submitted by the intelligence unit of the Chilaw Police Division.
While the court order has also been forwarded to the Inspector General of Police, he has been instructed to act accordingly to suspend the animal sacrificing ritual.
The animal sacrificing ritual is held each year at Sri Bhadra Kali Amman Kovil in Munneswaram however, a large scale protest had been launched against it on September 26, 2010.
Meanwhile a case filed at the Chilaw District Court by an animal rights organization to outlaw the ritual is still being examined.
It has been reported that several organizations in the area have made a request from the District Secretary and Puttalam Assistant Government Agent to put an immediate stop to the ritual.
Courtesy: Ada Derana
Latest Headlines in Sri Lanka