Central Bank to introduce Common ATM for all banks
Posted by Editor on September 13, 2011 - 2:32 pm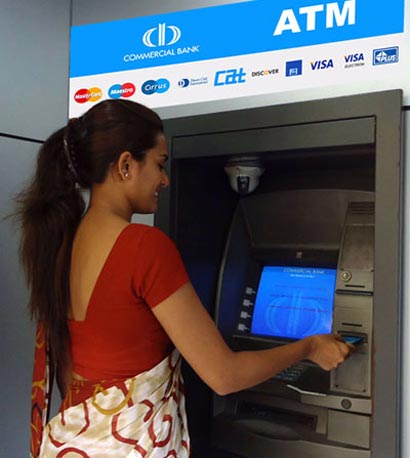 Sri Lanka Central Bank will set up a common ATM, mobile switch and a card switch as a common payment switch for the first time in Sri Lanka shortly. Central Bank's Assistant Governor Janaki Mampitiya making a presentation on "Mobile Payments Initiatives in Sri Lanka" at the National Information Technology Conference 2011 in Colombo  has recently said the mobile switch will have the facility to directly connect to mobile switches used by individual banks  enabling inter bank settlements through the accounts maintained at the CBSL.
The Central Bank is identifying the need to cater to the new payment instruments and payment channels.It has initiated the establishment of legal and regulatory systems for anticipated growth areas and there will be a tremendous demand for further modernization of mobile payments systems in the country very soon.
"With the introduction of new electronic payment mechanisms, there is a visible move towards the use of branchless banking methods from the traditional branch based banking systems and these payment methods have provided an opportunity for banks to reach customers who cannot be reached profitably with traditional branch based banking systems," she said.
Sri Lanka has observed a remarkable growth in mobile phone penetration within the country in the recent past and the number of phones in use has now surpassed  its population.
"Sri Lanka has a well-established bank network consisting of 1981 bank branches as at June 2011 spread throughout the country.
In addition several banks have established branches in the North and East to increase banking activities to cater to the anticipated rapid economic growth and to reach the unbanked population," she said.
There are two basic models on mobile banking, namely bank led model and non-bank led model. The bank led model involves extending banking facilities to its consumers using the mobile channel.
"However, any other model operating anywhere is a variation of these two models.
"The bank led model involves extending banking facilities to its customers using the mobile channel. The agents are appointed by the banks and are directly under their supervision which reduces the e-money risk significantly," Mampitiya said.
(CDN)
Source: Government News Portal
Latest Headlines in Sri Lanka