ODI cricketer of the year-Sanga
Posted by Editor on September 13, 2011 - 11:42 am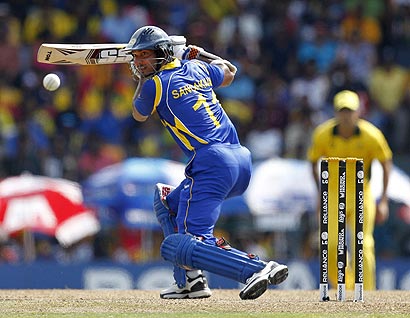 Former Sri Lanka captain Kumar Sangakkara has been named the ODI Cricketer of the Year for 2011 during the ICC Awards ceremony in London. Sangakkara also won the ICC People's Choice Award, capping a memorable evening for him.
"It's a great honour first of all to have been nominated for this award [ODI Cricketer] and a great honour to have actually won it," said Sangakkara, who was not in London because of the ongoing home series against Australia.
"I would like to thank the rest of my team-mates, they have done a great job over the years in one-day cricket and I am privileged to be part of this and [to have] led these guys for just over two years. I thank you again, I feel very very proud."
Sangakkara played 25 ODIs in the period under consideration – August 11, 2010 to August 3, 2011 – and scored 1049 runs at an average of 55.21 including a century and seven half-centuries. He also had 26 catches and 10 stumpings as wicketkeeper and led Sri Lanka to the final of the 2011 World Cup.
Sangakkara won the ODI award ahead of Australia's Shane Watson, India's Gautam Gambhir and South Africa's Hashim Amla.
For the People's Choice Award, Sangakkara received more votes than Amla, England batsman Jonathan Trott, West Indies opener Chris Gayle and India captain MS Dhoni.
Source: espncricinfo
Latest Headlines in Sri Lanka