Minister Samarasinghe tells United Nations Human Rights Council in Geneva: A Sri Lanka free of petty differences, our aim
Posted by Editor on September 13, 2011 - 9:32 am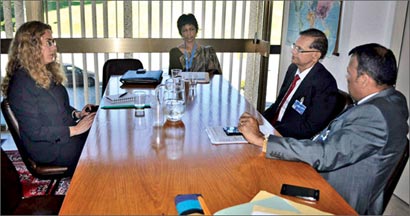 External Affairs Minister Prof G L Peiris and Plantation Industries Minister Mahinda Samarasinghe had discussions in Geneva with Human Rights Council President Laura Dupay Lasserre on the eve of commencement of the 18th session of the Human Rights Council.
Sri Lanka's international critics have, perhaps, lost sight of the very real opportunities for a new Sri Lanka that the defeat of terrorism has brought into being, Plantation Industries Minister and President's special envoy on human rights Mahinda Samarasinghe said.
"Through our ongoing efforts to engage, we will seek to convince them of the new reality and, if possible, co-opt them into rebuilding a new nation in which each Sri Lankan, irrespective of language, religion, ethnicity or cultural background, is welcomed and accommodated and given space to develop his or her full potential," the minister said at the United Nations Human Rights Council in Geneva yesterday. "The above is not some idle political platitude but forms the pith and substance of the vision of our President Mahinda Rajapaksa and his government," Samarasinghe said.
He added: "Our commitment to human rights is second to none, and with such commitment we seek to transform our society to one of peace, pluralism and equality."
"This, then, is our overall goal and mission. Our immediate, medium and long-term goals are a sustainable peace with equality, equity and the guarantee of human dignity," Samarasinghe said.
The minister said that in a mere two years and three months after the end of the armed conflict, Sri Lanka has achieved tremendous successes in connection with the reconstruction effort.
"Caring for IDPs in welfare centres alone cost the government US $ 31 million. A further US $ 2.1 billion has been mobilized for the Joint Plan for Assistance to the Northern Province – based on a tripartite agreement between government, the UN system and civil society. A vast portion of this funding is debt incurred by the government. However, the government has taken upon itself the responsibility of ensuring that there are resources sufficient to rebuild conflict affected areas while it also ensures nationwide economic development," he said. Samarasinghe also said de-mining of conflict affected areas was carried out at a pace that compares with the best efforts anywhere in the world. He also said development partners had told him that they admire and acknowledge the lead role taken by the Sri Lanka Army in this respect.
"The army is responsible for around 75 to 80 percent of the successful demining operations,"
The Minister also said resettlement has been achieved at a pace that is perhaps unmatched elsewhere.
Samarasinghe also said that over 11,600 ex-combatants have been put through varying programmes of rehabilitation depending on need and level of involvement in terrorism.
"Many have been released through the judicial system. The office of the Commissioner-General of Rehabilitation, has done yeoman service in this context. A special mention must be made of the child combatants who were rehabilitated. A proper legal and institutional framework was set in place and this critical segment of Sri Lankans have been cared for, trained and rehabilitated at great cost to the State," he said.
"These persons have now been given the opportunity to become useful and productive citizens – a credit to their families, communities and the country. We must continue to monitor their progress and assist them to build a secure future for themselves. Approximately 9,000 persons including child combatants have been reintegrated and just over 2,700 remain within the rehabilitation process. Every effort is being made to draw down the numbers still further," Samarasinghe said.
"Reconciliation and political solutions must be found if Sri Lanka is truly to win the peace. We have pointed out that reconciliation and political solutions in other post-conflict societies have taken years, even decades, to evolve into durable systemic responses within a democratic framework. Calls from certain quarters to expedite political reforms must therefore be tempered with an appreciation of the nuances of the Sri Lankan situation. A near 30 year conflict that is multifaceted and complex and had its roots in decades of history, cannot be analyzed and dissected in a space of a few days," he said.
Courtesy: Daily News
Latest Headlines in Sri Lanka