New Sri Lankan Ambassador to Sweden Oshadhi Alahapperuma assumes duties
Posted by Editor on September 13, 2011 - 9:16 am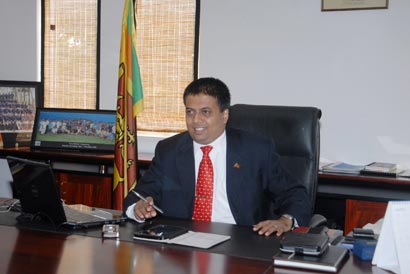 Onlanka News – By Janaka Alahapperuma
The newly appointed Sri Lankan Ambassador to Sweden, with accreditation to Denmark, Finland, Iceland, Estonia, Latvia and Lithuania, Oshadhi Alahapperuma assumed duties at the Embassy in Stockholm, Sweden recently.
Oshadhi Alahapperuma, engineer by profession and the former General Manager of Mobitel, the leading mobile service provider in Sri Lanka, is the youngest ever ambassador appointed by the Government of Sri Lanka at the age of 38. President Mahinda Rajapaksa handed over credentials to the new Sri Lankan Ambassador designate to Sweden at a simple ceremony at Temple Trees prior to Oshadhi's departure from Sri Lanka. He was warmly welcomed on his arrival by the staff of the Sri Lankan Embassy at Stockholm.
Oshadhi was born in Matara, in the Southern Province of Sri Lanka. He had his primary education at Meegasdeniya Junior School, Urugamuwa and Kumaratunga Munidasa Maha Vidyalaya, Dickwella, Matara. He followed his brothers' footsteps and entered to Ananda College, Colombo for his secondary education and completed his higher education by obtaining a BSc in Engineering, specializing in Telecommunication at Electro Technical University at St Petersburg, Russia. Oshadhi is proficiently fluent in the Russian language too.
Following the graduation, Oshadhi returned to the island and joined Mobitel as an engineer in Radio Transmission Planning. Subsequently, he was appointed as the General Manager in the field of Network and Service Quality. He has also been appointed to serve as the Private Secretary to the Minister of Youth Affairs and Skills Development, which enables him to come into contact with a wide range of people and situations. This experience has certainly deepened his knowledge of the society and has brought forth a new dimension of understanding in every aspect of the present times, especially of the issues faced by youth.
Oshadhi Alahapperuma comes from a very respectable family background where his parents are retired school principals. His father, late Mr. C. Alahapperuma had served many generations of students who have progressed on to achieve respectable positions in the society. Even his mother served in several government schools before her retirement and both his parents' reputations are held in the highest regard in their township community. Mr and Mrs Alahapperuma's exemplary moral values and diverse education played a pivotal role in the early years of lives of their kids as well as other children. Hence forming a strong and solid foundation of ideals and principles have immensely influenced on Alahapperuma family members in the rest of their lives for a successful, bright future as law obedient, honourable citizens.
Oshadhi's eldest sister, Sujatha, joined the judiciary of Sri Lanka and is presently a district judge. Elder brothers, Dullas Alahapperuma is the Honourable Minister of Youth Affairs and Skills Development and Nihal, a science graduate is now the Superintendent of Sri Lanka Customs. Other two sisters Shreeni and Preethi, are a dental surgeon of National Health Services and a housewife respectively.
Commenting on his appointment as the Sri Lankan Ambassador to Sweden in Stockholm, Oshadhi Alahapperuma said, "I'm delighted to take up post as Sri Lankan Ambassador to Sweden at a time of such great potential for Sri Lanka.  I look forward to leading as well as supporting the rest of my team at the embassy in enhancing long established Sweden-Sri Lanka relationships." Speaking on the occasion, the newly appointed Ambassador further highlighted the necessity for engagement with Sweden society in the bilateral arena and stressed the importance of a greater degree of trade, economic and cross cultural dialogue in a bid to broaden the existing relations with the countries of accreditation
I wish him very best of luck!
Latest Headlines in Sri Lanka