TENSE SITUATION WHEN AN INDIVIDUAL ARRIVES AT LIPTON CIRCUS PROTEST
Posted by Editor on November 9, 2010 - 11:25 am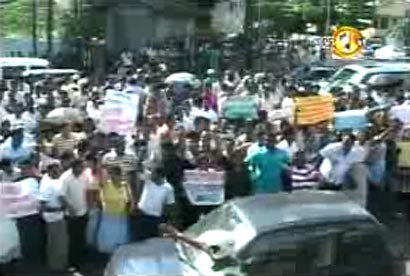 November 09, 2010: A protest was held opposite the Welikada Prison yesterday against the attack launched on a group of police officers inside the prison on Sunday.
As a result of this protest, the protest organized by a group called the 'War Heroes for the General' which was to take place opposite the Welikada prison, was held at the Lipton circus.
"Police officers, who are afraid of politicians and the henchmen of politicians who are linked to thuggery, told us to conduct our protest anywhere in the country and that they will assist us. We too have been in uniform just like them. Through this, the direction which the country is heading towards, is clear," said Gayan Vithanage.
Incidentally, a tense situation arose after a certain individual arrived at the Liptom Circus, where the protest was being held.
News First
Latest Headlines in Sri Lanka