Wonder of Asia: Town planners have a major role
Posted by Editor on November 9, 2010 - 8:46 am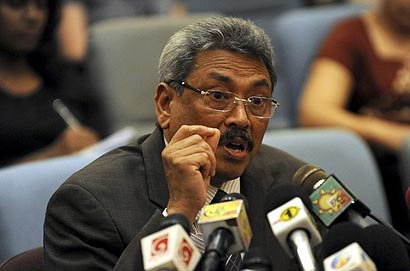 Town planners have a major role to play in making Sri Lanka the Wonder of Asia, Defence Secretary Gotabhaya Rajapaksa said. "Town planning should be realistic. Co-ordination and dialogues are required to implement town planning. Low-income groups should be relocated," the Defence Secretary said at the World Town Planning Day held at the BMICH, Colombo yesterday.
It was estimated in 1998 that around 65,000 families live in shanties. This number has gone up now and it can be around 75,000. This means half of the people living in the Colombo city live in shanties, he said.
"At least Rs 2.5 million is required to resettle one of these families at a small housing unit. Town planning comes here. We have to find money to relocate these families. As soon as this idea was put forward there was opposition. Giving a better life for the people is what is important, not acquiring valuable land," the Defence Secretary said.
"We have to relocate large numbers. There are a lot of unauthorized structures in valuable lands. We have to show investors that they can earn their investment back. Everything is being done to offer people a better life. Private sector is very important in town development and private sector contribution is always welcome. Social planners are also important. President Mahinda Rajapaksa has a plan to develop cities and link them. Town planners have a big challenge while doing this," he said.
The Defence Secretary said that a lot of speakers take examples from the war.
It was giving the right leadership, having the proper plan and commitment which helped to win the war. Commitment was the most important thing. The Armed Forces were under many hardships but they had the right aim, he said.
During the past 30 years the country had good fighters, dedicated and motivated people but peace could not be achieved.
But the same people achieved victory under the right leadership. This is same when it comes to town planning, the Defence Secretary said.
R Duminda Silva MP, Ports Authority Chairman Dr Priyath Bandu Wickrama, UDA Chairman Janaka Kurukulasooriya and several others spoke. Awards were presented to officials.
World Town Planning Day was held under the theme `Healthy people, healthy places, healthy planet'.
Daily News
Latest Headlines in Sri Lanka