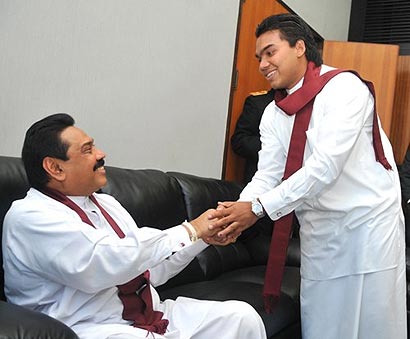 A unified and concentrated effort to give prominence to Sri Pada is under way. This is part of Parliamentarian Namal Rajapaksa's vision and concept. Sri Pada is part of our valuable cultural heritage. Preserving Sri Pada is a project of Tharunyata Hetak. "Sri Pada may be the most important cultural centre in Sri Lanka and we must preserve it for future generations. Giving it environmental protection is crucial," said Environment Director Uditha Thenuwara at a press briefing held yesterday with the idea being to showcase Sri Pada as an attractive, clean and orderly destination.
Sri Pada, a place of religious importance must be given environmental protection since it is under threat from pollutants such as polythene.
Discarded polythene is a huge environmental threat. "Shops will be prohibited from selling products that are hazardous to the environment in Sri Pada.
We are counting on the help of the police. We can't do this alone, we need the support of the media. We need to change the normal trend where discarding litter within the premises is the norm " added Thenuwara.
It is also important to incorporate the youth. The youth must be incorporated into this effort of protecting Sri Pada.
It is the intention of Tharunyata Hetak to send a powerful message to the public that the conservation of Sri Pada is its number one goal. The media must take this message into the homes of Sri Lankans.
"January 20, 2011 is an occasion that will mark the beginning of a series of religious and environmental programs aimed at restoring Sri Pada to its former glory.
Courtesy: DN Online