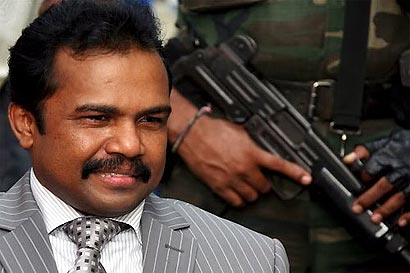 Source: BBC – By Charles Haviland
A former Tamil militant in Sri Lanka has admitted that his comrades killed more than 600 policemen 20 years ago in a part of the country he controlled.
But, he said, he was in a different part of Sri Lanka at the time.
Vinayagamoorthy Muralitharan, commonly known as Colonel Karuna Amman, was testifying before a commission looking into the Sri Lankan war.
Col Karuna's defection from the Tamil Tigers six years ago is seen as having led to their military defeat in 2009.
Now a vice-president of Sri Lanka's governing party, he has been dogged by allegations that he has abused human rights.
He has now told the country's war commission that more than 600 policemen were indeed killed in eastern Sri Lanka when he headed the Tamil Tigers there, something some earlier witnesses had alleged.
But Col Karuna said he was then in Jaffna in the north.
He said that the Tamil Tiger leader Prabhakaran – along with the rebels' intelligence chief – were to blame, as they had abducted the police officers, who were never heard of again.
Indian training
The former Tiger said he joined the militants as a teenager and had received training in India during the time of Prime Minister Indira Gandhi.
Ironically, the Tigers later assassinated her son, Rajiv.
He said this was a "big mistake" but added that Indian peackeeping troops sent to the island by Mr Gandhi when he was prime minister had killed many Sri Lankan Tamils and raped many women; he implied that one such woman was used as the suicide bomber who killed Mr Gandhi.
Col Karuna, like other Sri Lankan government members, dismissed the idea that government forces should face war crimes charges.
He said the Tigers, his former comrades, had used 300,000 Tamil civilians as a human shield against the state military, and that the latter's military campaign was necessary in order to release them.
Col Karuna also contradicted comments he made in an interview in 2006 about the relationship between Norway – the country which brokered an ill-fated ceasefire which lasted four years from 2002 – and the Tamil Tigers.
In that interview he was quoted as saying the Tigers were giving money to the main Norwegian diplomat involved, Erik Solheim, to bribe him.
But, asked about the allegation, he told the commission: "I didn't know such things."
He did however maintain that Oslo had given the rebels financial assistance at the time of the truce.