The President Waheed arrived in Sri Lanka
Posted by Editor on August 24, 2012 - 3:24 pm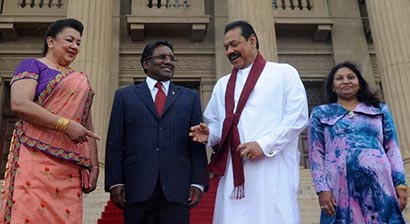 The President of Maldives arrived on a State Visit to Sri Lanka yesterday. The Presidents Sri Lanka and Maldives agreed to extend and strengthen cooperation in human resource development, defense and security and protection of the resources and sea lanes in the Indian Ocean.
These were among the understandings reached at bi-lateral discussions between President Mahinda Rajapaksa and Maldivian President Dr Mohamed Waheed at the Presidential Secretariat in Colombo.
President Waheed, who said the close ties between Sri Lanka and Maldives in areas such as tourism, health, fisheries, and youth affairs would continue to grow, emphasized that Sri Lanka played a unique role in modernizing education in Maldives. The contribution of Sri Lankan teachers in building the human resource base in Maldives is fully recognized and appreciated, he said.
The Maldivian President sought the continued assistance of Sri Lanka in maritime security, strengthening coast guard activities, marine engineering and in the training of air traffic control personnel.
He also looked forward to Sri Lanka's assistance in the training of police personnel, Special Forces units and squadrons trained by the Sri Lanka Navy. He extended an invitation to Sri Lanka to participate in forthcoming coastguard exercises, which would be a unique demonstration of cooperation among Sri Lanka, India and Maldives.
President Mahinda Rajapaksa in welcoming the Maldivian President said Sri Lanka had noted the recent political transition in the Maldives and is eagerly following developments. Sri Lanka believes that political transition and changes should not harm the peace, prosperity and stability in a country. It is my wish to see Maldives as a stable and prosperous country and the blessings of the Sri Lankan people are with you, he said.
He also said Sri Lanka is now enjoying durable peace and political stability since the decisive victory over the forces of terror in May 2009, and the country is now firmly on the path of reconstruction, economic development and reconciliation. He explained the Government's efforts to unite Sri Lankan nation through steps such as the establishment of the Lessons Learnt and Reconciliation Commission, a domestic mechanism for this purpose, with concrete steps to monitor implementation of his recommendations.
The Maldivian President Dr. Waheed congratulated President Rajapaksa on his visionary and great leadership in achieving peace and prosperity for Sri Lanka. There were clear signs of rapid economic growth and one could see clearly the many changes taking place for the better in Sri Lanka. 'This is a tribute to your exemplary and inspiring leadership,' he said.
The Maldives was confident of continuing to work together with Sri Lanka on international and Regional Corporation. He was grateful for the support extending by Sri Lanka to SAARC. He also said that President Rajapaksa's advice at a time when Maldives was going through a difficult period six months ago was very useful. Since then the country had established peace and stability despite minor disruptions to the economy. There had been no human rights violations although some of 'our friends' have been making allegations regarding such violations, Dr. Waheed said.
President Rajapaksa expressed Sri Lanka's appreciation to the Maldives for the firm and continuous support extended to Sri Lanka at the 19th Session of the Human Rights Council in Geneva. 'Your Government's support to Sri Lanka was indeed the gesture of a long-time friend,' he said.
Sri Lanka greatly valued and appreciated the role played by the Maldives in promoting and upholding the noble values of SAARC as the Chair of SAARC, and Sri Lanka will extend all support to the Government of the Maldives to fulfill this task, he added.
On Defense Cooperation President Rajapaksa said it is important to both our countries. Thus, Sri Lanka wishes to provide further training opportunities to the Maldivian Defence Services, in addition to the present training provided in the areas of military, bomb disposal, coast guard & maritime and air defence. Sri Lankan Defence and Law enforcement agencies work closely with their Maldivian counterparts on the prevention of narcotics, weapons & human smuggling. We have already established the SAARC Terrorist Offences Monitoring Desk (STOMD) and the SAARC Drug Offences Monitoring Desk in Colombo supporting other SAARC countries. Sri Lanka expects the fullest cooperation of Maldives to activate these two initiatives, he added.
President Rajapaksa said Sri Lanka encourages closer cooperation in security and intelligence including maritime security establishments to safeguard the sea lanes in the Indian Ocean.
In his concluding comments, President Rajapaksa emphasized that Government's objective is to ensure Sri Lanka's emergence as a strong sovereign state without the threat of terrorism and separatism and provide sustainable security to the people of Sri Lanka, and looked forward to closer cooperation with the Maldives as well as other SAARC Members.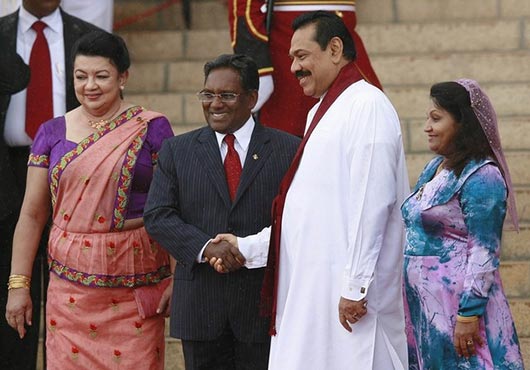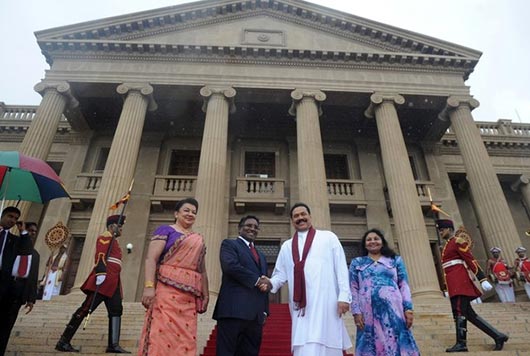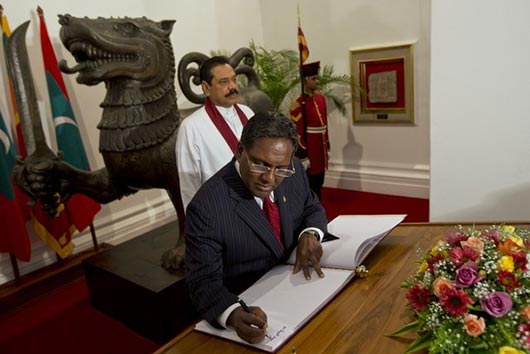 Source: Government News Portal / Pix by AP / Reuters / Getty Images

Latest Headlines in Sri Lanka