THE RUGBY LEGEND WHO BECAME A BUDDHIST BY READING QUANTUM PHYSICS
Posted by Editor on June 10, 2012 - 5:08 pm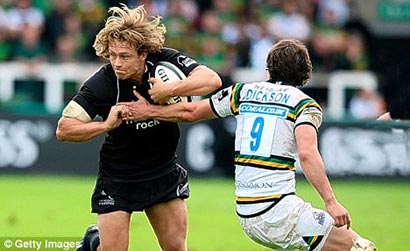 Onlanka News – by Walter Jayawardhana
The rugby legend Jonny Wilkinson hit world headlines  due to his 2003 World Cup final heroics, when his drop goal in the last minute of extra-time delivered the trophy to England. He made another sensation when he told the London Times that he became a Buddhist by reading Quantum Physics.
Wilkinson, a millionaire by then  has revealed that he has found inner peace through Buddhism.
The former England Rugby star ,  who became a national hero after the world cup victory, said Buddhism  had helped him overcome a fear of failure which was ruining his life ironically due to the victory..
London's Daily Mail said, "His obsessive perfectionism had been making him miserable but Buddhism had liberated him from being motivated by 'money, status tars, or ego'."
He said moments after he won the world title against Australia in Sydney he was having strong feelings of anti-climax.
He was quoted having said later "I did not know what it really meant to be happy. I was afflicted by a powerful fear of failure and did not know how to free myself from it."
After winning the World Cup serious injuries put him out of international rugby for four years.
During this derailment  he tried to learn guitar, piano ,French and Spanish as a distraction.
A report said, "In the end he had a 'Eureka' moment while reading a book on quantum physics – the study of sub-atomic particles."
'Quantum physics helped me to realise that I was creating this destructive reality and that all I needed to do to change it was to change the way I chose to perceive the world,' he told the Times.
'I do not like religious labels, but there is a connection between quantum physics and Buddhism, which I was also getting into.
His epiphany came after reading about a famous experiment in quantum physics known as Schrodinger's Cat, a report said.
"It was all about the idea that an observer can change the world just by looking at something; the idea that mind and reality are somehow interconnected," Wilkinson explained.
"It is difficult to put into words, but it hit me like a steam train."
He continued: "I came to understand that I had been living a life in which I barely featured. I had spent my time immersed in the fear of not achieving my goals and then spent my time beating myself up about the mistakes I made along the way. Quantum physics helped me to realise that I was creating this destructive reality and that all I needed to do to change it was to change the way I chose to perceive the world.
'Failing at something is one thing, but Buddhism tells us that it is up to us how we interpret that failure.
'The so-called Middle Way is also about having the right intentions.
"[Buddhism] a philosophy and way of life that resonates with me," he revealed. "I identify with it. I agree with so much of the sentiment behind it. I enjoy the liberating effect it's had on me to get back into the game."
'Are they decent and honest and are you giving consideration to other people?  Selfishness can never be the route to happiness or success.'
Wilkinson's live-in girlfriend Shelley Jenkins, 27, the daughter of a scaffolding magnate, is apparently 'really happy' about Wilkinson's new enlightenment.
'I have improved as a person in my relationships, not just with her, but with friends and family,' he said.
Asked to explain the deeper reason for his Buddhist faith, he added: 'I think it was rooted in an even deeper fear of death.
'I couldn't figure out how to avoid death: it was like a game I could not win. The closer I got to family and friends and the better things got, the more I had to lose.
'I have accepted my career will finish one day and I am in a place that will enable me to make that transition comfortably. I will not have to reinvent myself to cope with life after rugby.'
He told the French news agency AFP, "Buddhism, with its concepts of karma and rebirth, have freed me from the twin fears of death and life without rugby. It has given me the ability to understand that rugby, like life, will also come to an end."
"My motivation today has nothing to do with status, money or ego. Before I wanted to be the best in the world and I would watch other players to see how I measured up. Now when I do something great on the rugby pitch it is not about being better than others but about exploring my talent … My fulfillment is no longer about self-gratification; it is about seeing the happiness of others."
Latest Headlines in Sri Lanka