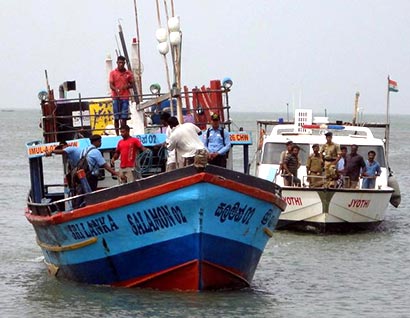 Onlanka News – by Walter Jayawardhana
Five Sri Lankan fishermen were taken into custody by Indian Coast Guard (ICG) at Tuticorin Tamil Nadu on Sunday morning.
The ICG charged them of illegal fishing in the Indian waters and violating the Indian Maritime Boundary Line. Their fishing boat was also seized.
In a statement the Tuticorin ICG office said personnel on Coast Guard ship Veera engaged in routine patrol sighted the Sri Lankan fishing boat, 'Saloman – II', with the five fishermen trespassing into the Indian Ocean at 45 nautical miles South East off Manapad lighthouse.
They took them into custody and brought them to the Old Tuticorin Port before handing them over to local police.
Further investigation is under way. Tuticorin Thermal Police have filed a case in connection with the incident.
The arrested were A. Delin Thussehra Perera (28), D. Gurule Surya Diron Fernando (31), N. Thomas (44), V. Varghula Surya Antony (33) and H. Surya Seone (20).
They are from Colombo .