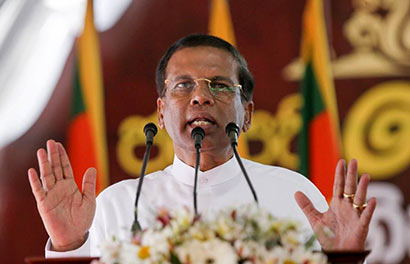 Sri Lankan President Maithripala Sirisena yesterday said there cannot be two leaders in a country.
"A country should be governed by one leader and he should be allowed to run its administration" the President said addressing an SLFP meeting in Nuwara Eliya yesterday. He further said he wishes to unite all groups in his plan to bring the change demanded by the public and that he will not entertain factions in the SLFP.
"Former President Chandrika Bandaranaike Kumaratunga strove to bring out reforms through peaceful measures. She even became a victim of the violence unleashed by the LTTE. Former President Mahinda Rajapaksa defeated the LTTE and introduced reforms to the country. I too was elected by the people of the country to bring about reforms. I should be allowed to do that," the President told the SLFP activists in the Nuwaraeliya district.
"Our party had faced splits in the past. We all know what happened when we had to deal with divisions in the past. The SLFP will not be able to form a government as long as the party is divided," President Sirisena said.
"There are some who talk about breaking away from the SLFP and contesting separately. They are betraying the party and its supporters. I do not want to sideline any person. But, if I am the party leader, others should cooperate with me and support my efforts to restore unity in the party," he also added.
(Government News Portal)