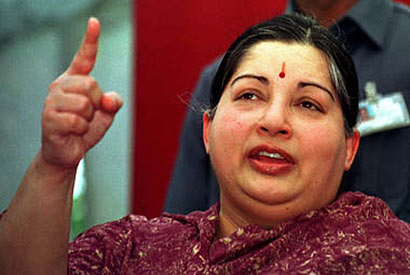 Following the latest instance of arrest of Indian fishermen by Sri Lanka, Tamil Nadu Chief Minister J Jayalalithaa sought Prime Minister Narendra Modi's intervention for the release of 31 such people along with their boats.
"I urge your personal intervention… and request you to direct the Ministry of External Affairs to take up the matter with the Sri Lankan authorities at the highest level to secure the immediate release of 31 apprehended fishermen and their 23 fishing boats in Sri Lankan custody, including the 17 fishermen and 2 fishing boats apprehended on June 20," she said.
"These arrests 'vitiate the congenial atmosphere' in which the state government facilitated three rounds of bilateral fishermen-level talks in Chennai in January and in Colombo in May last year beside another one here in March this year," she said.
She said that recurring cases of arrests was affecting the community even as Colombo's "strategy of not releasing boats of the fishermen is causing great long-term economic loss to the poor fishermen".
Jayalalithaa noted in the letter that she had moved Supreme Court against "unconstitutional agreements of 1974 and 1976 of the Union Government, which (had) unilaterally ceded the islet of Katchatheevu" to Sri Lanka.
The ceding had deprived Indian fishermen of their historic right of fishing in their traditional waters, she said.
She further said that her government has not received 'favourable responses' to her demand for retrieval of Katchatheevu and for a financial package for the fishing community. (PTI)