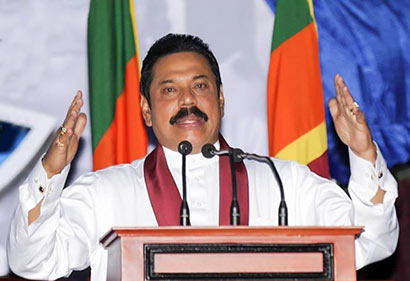 The presidential candidate from the opposition who says that he would adopt a Singapore model to manage the country's affairs wants to take the UNP government's program forward, President Mahinda Rajapaksa said.
He said the opposition candidate wants to continue with what was done by former UNP leaders in the country.
"Plans are being drawn by some elements to privatize ports, airports, power stations and highways built by the government," he said.
President Rajapaksa speaking at a public meeting in Serunuwara yesterday, said he became aware of these plans when opposition parliamentarians visited ports, airports and petroleum corporations.
"The purpose of these visits were to ascertain the value of these assets to be sold to the private sector," he said.
President Rajapaksa added that he has experience in the political arena for over 46 years and he is aware of what the opposition was planning to do to the country.
He said the people are not ready to become servile to foreign nations by selling our assets to them.
The President who left for the Eastern province to participate in two massive rallies in the heart of Batticaloa and Kattankudi towns reached Serunuwara last morning. He received a warm welcome from residents of Serunuwara.
"A leader should have self-confidence to rule the country. A leader who lacks self-confidence and is unable to tell the party that he is leaving, cannot rule a country," President Rajapaksa said.
He added that some persons left the party without even informing the party and their conduct is against basic humane values. President Rajapaksa said a country faces a gamut of challenges. "Sri Lanka has been facing stiff pressure locally and internationally. We should have confidence to fight these forces," he said.
The President added that a leader should have the courage and fortitude to dispose of what is not useful for a country.
"He should also have the courage to embrace what is needed and useful to the country," he said.
(Daily News)