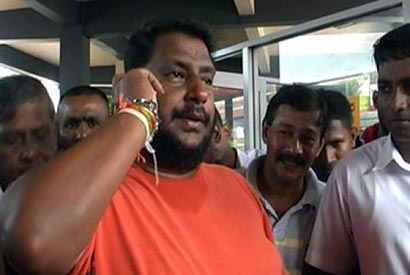 UPFA Parliamentarian Nishantha Mutuhettigama yesterday took away three of his supporters arrested by the Wanduramba police on Thursday for setting ablaze the stage erected for Common Opposition Presidential Candidate Maithripala Sirisena there on Wednesday, along with a vehicle and the public address system.
The suspects were taken by MP Mutuhettigama with his supporters after having entered the police station there, while the police officers were getting ready to take the suspects to the Beddegama Magistrate court in the morning.
The Police Media Unit (PMU) and Wanduramba OIC denied any such incident.
Asked whether he had removed the suspects who were to be produced before the Beddegama Magistrate, while they were at the Wanduramba police station, MP Mutuhettigama said that he had taken them in his vehicle to the Magistrate Court.
Asked whether the police had objected to him taking the suspects forcibly, he said smilingly, ewa koheda maath ekka––how can they interfere with what I do?" President Mahinda Rajapaksa, too, had asked him about arson attack and advised him not to get involved in violent activities, he said.
(The Island)