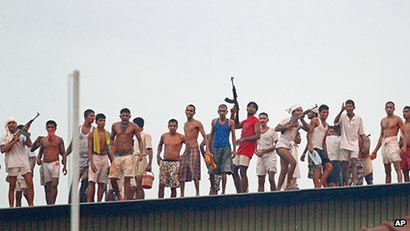 At least 13 people have died in clashes between inmates and guards at Sri Lanka's Welikada prison in the capital Colombo, hospital officials say.
The violence was sparked when police commandos attempted to conduct a search at the prison.
There are reports of ongoing gunfire, and that inmates have seized weapons. The army has been called in and surrounding roads are closed.
Up to 4,000 inmates are held in the jail, which has seen violence before.
In January 25 prisoners and four guards were wounded when clashes erupted, and in 2010 more than 50 police and prison guards were wounded during a raid to seize mobile phones.
The director of the National Hospital in Colombo Anil Jasinghe said that 13 people, at least 11 of them prison inmates, had been killed in this latest violence.
Some had died attempting to escape the jail including several who appeared to have been shot while attempting a getaway on a motorised rickshaw, the Associated Press news agency reports.
A further 32 injured people have been brought into the hospital, Mr Jasinghe told news agency AFP, with six in a critical condition.
The BBC's Charles Haviland in Colombo said it is not clear how many more people may have died inside the jail.
Some 30 people, including a senior police officer, were injured, and inmates are reported to be holding prison staff hostage.
Inmates were later seen waving rifles from the roof of a prison building. But a senior advisor to the prison ministry told BBC Sinhala that the situation was under control.
A prisoner who was in the jail at the time told the BBC Sinhala's Saroj Pathirana that clashes broke out when police commandos entered the jail, taking prisoners out of their cells and handcuffing them.
Some reports say the police may have been searching for drugs and smuggled mobile phones.
The prisoner told our correspondent that inmates seized weapons from the prison's weapon store during the confrontation.
BBC