TISSA IN THE SLAMMER – REMANDED
Posted by Editor on February 3, 2015 - 7:56 am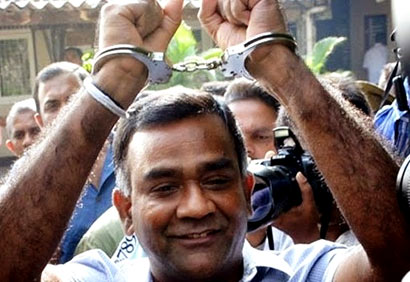 Colombo Fort Acting Magistrate Jayantha Dias Nanayakkara yesterday remanded UNP General Secretary Tissa Attanayake until February 11, 2015.
This followed Criminal Investigations Department (CID) investigations into a complaint made by then Opposition and UNP National Leader Ranil Wickremesinghe that Attanayake had produced before the media a spurious document with his (Wickremesinghe's) forged signature.
Sub Inspector D. V. Wijedasa of the CID yesterday produced the Government Analyst's Department report in connection with the fake documents with the forged signature of Wickremesinghe. SI Wijedasa moving to remand Attanayake submitted that the investigation into the complaint made by Wickremesinghe is not complete.
Attorney Vikum Basnayake who appeared with Attorneys Deemani Beddewela and Buddhika Indurugolla for Attanayake, moved court to grant bail for his client.
Attanayake, who also held the Health Minister's portfolio for a mere two weeks in the previous government, was arrested by the Colombo Crimes Division yesterday on charges of falsifying documents prior to the recent presidential election, Police said.
Earlier, the CID recorded a statement from Attanayake over a document he produced at a media briefing and later had gone onto highlight its contents on election platforms, alleging that it was a secret agreement between the then Common Opposition candidate Maithripala Sirisena and the then Opposition and UNP National leader Ranil Wickremesinghe.
Attanayake while displaying the "agreement" document alleged that Mr. Sirisena and Mr. Wickremesinghe had signed it in secret in addition to the Memorandum of Understanding (MoU) signed in public.
Attanayake while doing so prior to the election claimed that the alleged secret agreement contained several clauses that could be harmful to the country.
Both Mr. Sirisena and Mr. Wickremesinghe at the time vehemently denied the allegations while alleging that the letter produced by the former UNP General Secretary was a fake and their signatures were forged in the document.
Wickremesinghe soon after requested the Inspector General of Police to investigate the forging of his signature in the alleged agreement which he claimed was created with malicious intent of misleading the people prior to polls.
Common Opposition presidential candidate Maithripala Sirisena who won the elections to be elected President, also denied Attanayake's claim and sent a letter of demand through his legal counsel claiming damages to the tune of Rs. 2.5 billion from the then Health Minister for presenting a forged document with the intention of tarnishing his image as a responsible politician.
Mr. Sirisena also noting at the time that there were moves to print and distribute the bogus letter among the public instructed his legal team to take legal action against such an act.
(Daily News)
Latest Headlines in Sri Lanka