US says Sri Lanka faces difficult challenges ahead
Posted by Editor on February 3, 2015 - 8:02 am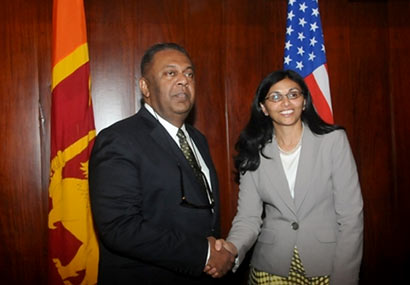 The United States while congratulating the new Maithirpala Sirisena government on having accomplished much in a short space of time, yesterday cautioned that it faced difficult challenges ahead.
Visiting US Assistant Secretary of State for South and Central Asian Affairs, Nisha Biswal, addressing the media in Colombo, following talks with Foreign Minister Mangala Samaraweera said that Sri Lanka could count on the US to be a partner and friend in the way forward, be it in rebuilding the economy,preventing corruption, advancing good governance, ensuring human rights and democratic participation for all its citizens.
President Sirisena and Prime Minister Ranil Wickremesinghe had put forth an ambitious agenda for their first 100 days and much had already been accomplished in a very short time, but there was a lot of hard work ahead and some difficult challenges to be faced, she noted.
"I am excited to be here to see for my self the energy that the world is talking about and about Sri lanka's democracy for all the right reasons," Biswal exclaimed, while reiterating the congratulatory messages that US President Obama and Secretary of State John Kerry had sent to Sri Lankan voters on the historic election and new opportunities that had opened up.
The Assistant Secretary of State observed that since Sri Lanka achieved Independence, the US had not only provided more than USD 2 billion dollars in assistance but also bought more of its products than any country had.
Foreign Minister Mangala Samaraweera said that it was an honour to receive a high level official such as Biswal in the first 100 days of the Srisena administration. "We discussed a range of issues at further strengthening our bilateral relations and want to raise it to a new level of cordiality. I hope to continue this dialogue with Secretary of State John Kerry when I meet him in Washington on February 12," he said.
(The Island)
Latest Headlines in Sri Lanka