TNA to announce its stand on polls by end of the month
Posted by Editor on December 14, 2014 - 7:21 pm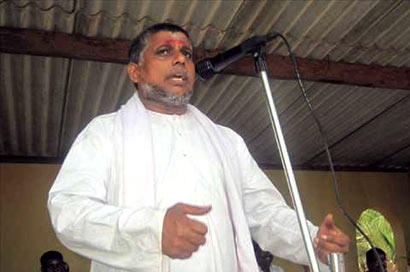 Sri Lankan Tamil politician and Member of Parliament Seenithambi Yogeswaran has said the Tamil National Alliance (TNA), an amalgamation of Tamil parties, will announce by this month-end its stand on the January 8 presidential elections.
Talking to reporters in Rameshwaram on Saturday, Mr. Yogeswaran, who was there to attend a conference organised by the Hindu Makkal Katchi, said the TNA wanted to keep the cards close to its chest because it did not want its decision to influence the outcome of the elections.
He said that as both President Mahinda Rajapaksa, who is seeking third term, and Maithripala Sirisena, the joint opposition candidate, were anti-Tamils, the TNA would take a stand after they released their manifestos.
Replying to a question, he said the TNA would not boycott the elections. "We will take part in the democratic process and exercise our democratic right," he said. The government's decision to amend the Constitution to remove the two-term limit for President sparked a wide protest in the island nation, he said.
He said the former President, Chandrika Kumaratunga, and the former Commander of the Sri Lankan Army, Sarath Fonseka, pledged support to Mr. Sirisena. "As of now, Mr. Sirisena's prospects look bright."
Mr. Yogeswaran said Northern Province Chief Minister C.V. Vigneswaran remained powerless, and all powers were vested with the Provincial Governor, a former Army officer. Mr. Vigneswaran could not do much to the Tamils, who "are still fighting for their rights."
The Tamils were finding it difficult to get houses, being built with India's assistance, and more than 1,000 Tamils, displaced during the war, were detained in camps and not allowed to return to their villages, he said.
After a TNA delegation met Narendra Modi, the Tamils were hoping that the Prime Minister would help them lead a dignified life, he said.
(The Hindu)
Latest Headlines in Sri Lanka