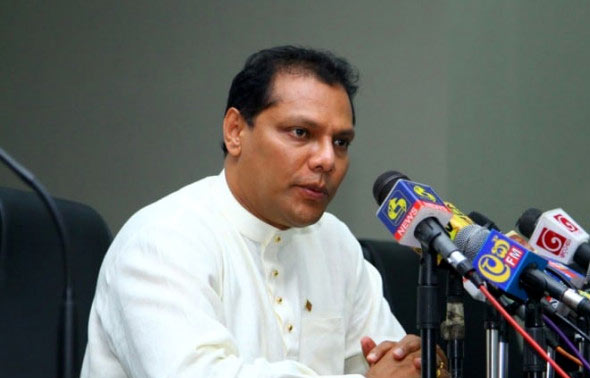 Additional Solicitor General (ASG) Yasantha Kodagoda yesterday told Fort Magistrate that a member of parliament had received Rs. 1 mn in 2015 from Walt and Row Associates affiliated to primary dealer Perpetual Treasuries Limited involved in the Treasury bond scams perpetrated in 2015 and 2016.Although, Kodagoda didn't name the MP in open court, a B report filed in respect of the magisterial inquiry identified the politician as Kurunegala District MP Dayasiri Jayasekera.
Former Sports Minister Jayasekera recently quit the cabinet after voting for JO led No Confidence Motion (NCM) against PM Wickremesinghe over his alleged complicity in controversial transactions.
Kodagoda also told the court that the Criminal Investigation Department had received confirmation from the Interpol regarding former CBSL Governor Arjuna Mahendran still being in Singapore.
Kodagoda said that a police constable attached to the particular UPFA MP's security contingent had en-cashed a cheque received from the company and given the money to him.
The ASG revealed that a VIP, too, had received Rs 1 mn from W.M. Mendis & Co. A senior employee of that company had en-cashed a cheque issued by W.M. Mendis and handed over the money to the VIP in a black vehicle parked in the company compound.
Colombo Fort Magistrate and additional district judge Lanka Jayaratne directed Lanka Financial Bureau to make available all data pertaining to transactions conducted by PTL in the secondary market from January 1, 2015 to Feb 2, 2018 to the CID.
The directive was issued to PTL Chairman Jeffrey Joseph Aloysius in the wake of Kodagoda bringing to the notice of the court a set of vital documents required by the CID being kept in parkland building belonging to the PTL.
Kodagoda said that ill-gotten money had been given to a third party by the PTL.
(Source: The Island – By A.J. Abeynayake)