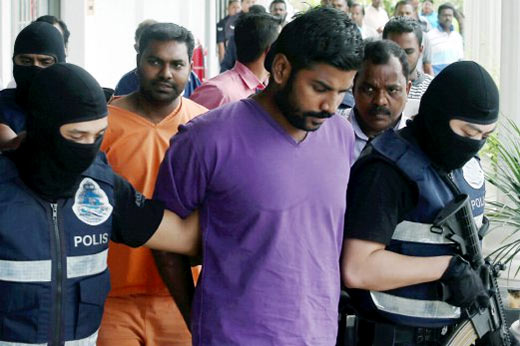 Two men were charged in the Sepang Sessions Court today with rioting and causing hurt on Sri Lanka High Commissioner in Malaysia Ibrahim Sahib Ansar on Sunday.
Businessman A. Kalaimughilan, 25, and taxi driver V. Balamurugan, 34, pleaded not guilty to the charge read out to them in Tamil before judge Muhamad Faizal Ismail.
The two friends are jointly charged, with four others still at large, with committing the offence at Level 3, KL International Airport at 3 pm on Sept 4.
They are charged under Section 147 of the Penal Code and face an imprisonment for up to two years, or fine, or, both, if found guilty.
The court allowed them bail of RM7,000 in one surety each and fixed Oct 7 for mention.
Earlier, deputy public prosecutor Fariza Hamzah, who prosecuted, requested bail at RM20,000 in one surety on grounds that the incident occured at the entry point to the country and it could tarnish Malaysia's image.
However, lawyer M.Manoharan, representing the two accused, requested for a lower bail as his clients were from poor families and had their own families to support.
They are also Malaysians and with no previous record, he added. -Agencies
(Source: Bernama)