Two govt. MPs importing heroin, ethanol – UNP
Posted by Editor on October 5, 2013 - 7:19 am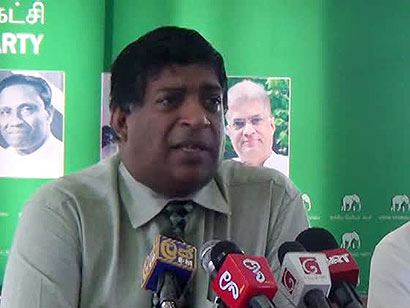 Two government MPs were importing heroin and ethanol,UNP MP Ravi Karunanayake said yesterday. He refused to name them.
Addressing the media in Colombo,he said that the Mahinda Chintana had pledged a drug free society, but its own members were flouting the law and importing large quantities of harmful substances which were being sold mainly to the youth. By a quirk of fate some container loads of heroin and ethanol had been detected by the Customs recently, he said, noting that the public were eager to know the outcome of the inquiries conducted and if any action had been taken. "It won't be surprising if the culprits who are ruling party politicians, go scot free."
Referring to the crisis in the financial sector, Karunanayake said directors appointed by Central Bank Governor Ajith Nivard Cabraal had failed and Finance Companies had gone from bad to worse.
MP Karunanayake pointed out that a large number of people, mainly from the lower income groups who had invested their hard earned savings in Central Investments and Finance Limited and Okanda Finance among other such institutions, had been left in the lurch, though the Central Bank officials claimed that those institutions were doing fine.
In comparison to the problems faced by the UNP, which were common to Opposition political parties, the MP observed that the Rajapaksa regime was faced with a serious crisis resulting from incompetence, maladministration, rampant corruption and ill conceived borrowings from the international commercial market,which had destroyed the economy and mortgaged the country for generations to come.
(Courtesy: The Island)
Latest Headlines in Sri Lanka