Two more Highways under ADB assistance
Posted by Editor on April 18, 2012 - 2:31 pm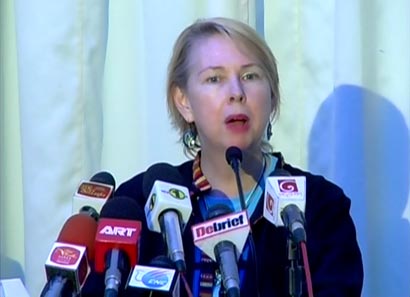 The Asian Development Bank is to continue investing in around 300 Million U.S.Dollars in the development programmes of Sri Lanka each year until 2016.
The Bank yesterday renewed its commitment to support Sri Lanka's post-war socio-economic growth by entering discussions with the Government on several new projects.
ADBs Country Director Ms. Rita O'Sullivan said in Colombo yesterday that Bank will continue to work with the Government in creating niche markets for exports as well as supporting infrastructure and further assist in the lagging regions. She said that in addition to this, there will be private public partnerships and projects with the private sector.
The ADB is also having discussions with the Government with regard to the construction of two more highways, the Colombo-Kandy highway and a highway connecting Colombo and Jaffna that would cost as much as 4.5 billion U.S.Dollars.   Several provincial roads will also be constructed through the ADB country programme.
Ms. Rita O'Sullivan said that ADB will also be working with the Government to develop capital markets in Sri Lanka and will continue to engage in a plethora of projects, some of which will be based in the North.
Source: Government News Portal
Latest Headlines in Sri Lanka