U.N. chief urges Sri Lanka to redress wrongs of war
Posted by Editor on September 3, 2016 - 7:36 am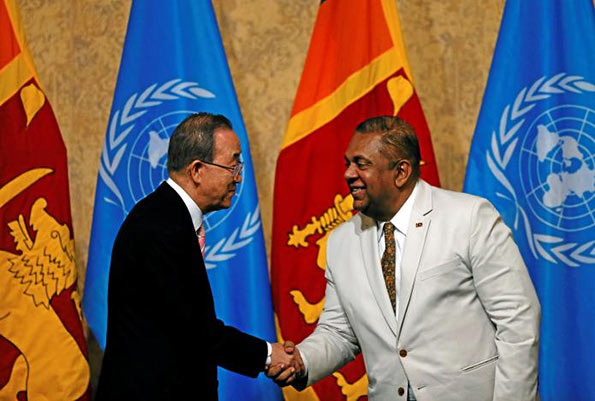 U.N. Secretary General Ban Ki-moon on Friday urged Sri Lanka to do more to redress wrongs committed during 26 years of war with Tamil rebels, including returning land and restoring the accountability of the judiciary and security services.
Ban, on a three-day official visit, praised the efforts of President Maithripala Sirisena's administration since coming to power last year to address some rights abuses committed during the war.
"But more can and should be done to address the legacy of the past and acknowledge the voices of the victims," he told a gathering in Colombo, without mentioning the army or the rebels. "Sri Lanka is still in the early stages of regaining its rightful position in the region and the international community."
Dozens of Sri Lankan nationalists, who back ousted president Mahinda Rajapaksa, on Thursday protested against Ban's visit, demanding he leave the island and stop an investigation into alleged abuses at the end of the civil war.
Rajapaksa's administration crushed the separatist Liberation Tigers of Tamil Eelam in 2009. The United Nations and rights groups have accused the military of killing thousands of civilians, mostly Tamils, during the final weeks of the conflict.
The Tamil Tigers were also accused of widespread abuses during the conflict, such as using child soldiers and targeting civilians with suicide bombers, including an attack on the central bank in 1996 which killed nearly 100 people and wounded more than 1,000.
Sirisena's administration has established offices to look into reconciliation and missing persons while it also has returned some military-occupied lands in the north.
However, Sirisena, also the defense minister, has yet to withdraw the military from the former war zones.
Ban said there was still much work to be done "in order to redress the wrongs of the past and to restore the legitimacy and accountability of key institutions, particularly the judiciary and the security services".
"I also urge you to speed up the return of land so that the remaining communities of displaced people can return home. In parallel, the size of the military force in the North and East could be reduced, helping to build trust and reduce tensions."
Ban also visited northern Jaffna, center of the would be homeland of the rebels, where he said the United Nations would help Tamils in the resettlement process.
Around 500 Tamils gathered in front of Jaffna library, the symbol of Tamil learning and one of biggest libraries in Asia before it was burned by a mob in 1981, and urged Ban to help find relatives who disappeared in the war and ensure the release of political prisoners.
(Reuters)
Latest Headlines in Sri Lanka