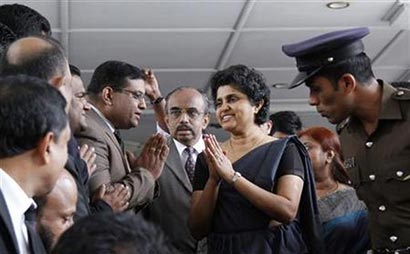 (Reuters) – United Nations human rights chief Navi Pillay has accused Sri Lanka of "gross interference" in the judiciary, warning that its removal of the chief justice could jeopardise efforts to prosecute war crimes.
Sri Lankan President Mahinda Rajapaksa appointed a close ally as chief justice on Tuesday, two days after sacking the previous top judge for impeachment despite opposition from the Supreme Court.
"The removal of the Chief Justice through a flawed process – which has been deemed unconstitutional by the highest courts of the land – is, in the High Commissioner's view, gross interference in the independence of the judiciary and a calamitous setback for the rule of law in Sri Lanka," Pillay's spokesman Rupert Colville told a news briefing in Geneva on Friday.
Mohan Peiris, who replaces Shirani Bandaranayake as chief justice, has been active in Sri Lanka's delegations defending its record at the U.N. Human Rights Council in Geneva.
The government has resisted calls at the 47-member state forum to set up an international inquiry to investigate massacres of civilians during its three-decade civil war, which ended in May 2009. A U.N.-sponsored panel has said that the army committed large-scale abuses and was responsible for many civilian deaths in the final stages of the war against the separatist Tamil Tigers.
"This raises obvious concerns about his independence and impartiality, especially when handling allegations of serious human rights violations by the authorities," Colville said.
"We are also concerned that the impeachment process has caused bitter divisions within Sri Lanka, and that it sends an ominous signal about the government's commitment to accountability and reconciliation."
Pillay's office received "alarming reports" on Friday from the country's independent law bar about a "series of death threats, acts of intimidation and even a couple of reported murder attempts" against lawyers who have been supporting former chief justice Bandaranayake, the U.N. spokesman said.
Reuters