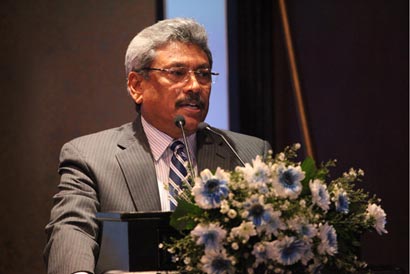 FILE PHOTO
Inimical foreign influences are inevitable for any country with a leadership that loves the country and thinks locally, Defence and Urban Development Ministry Secretary Gotabaya Rajapaksa said.
Speaking at the Entrepreneurship Management Certificate Course certificate awarding ceremony in Colombo organized by the National Chamber of Commerce (NCC) and Colombo University Human Resources Advancement Institute (HRAI) yesterday, the Secretary said President Mahinda Rajapaksa provides the leadership for the forward march of the country, while facing each and every challenge directed at him with fortitude. He observed most of these foreign influences upon Sri Lanka are driven by misinformation. He said the decisions based on misleading information and incorrect facts are most often the main reason for the problems which the international community creates for Sri Lanka.
He observed in the present global context, oil and geographical location attract attempts by external forces to destabilize the country, adding that Sri Lanka is vulnerable to such attempts due to its strategically important location in the world map.
He noted the country still imports many products which could have easily been produced locally, aiding self sufficiency. He cited tamarind as one such product, adding that the country spends colossal amounts of foreign exchange for this kind of import. He noted the necessary environment to develop local enterprises has been created by the government after the dawn of peace, stating small and medium scale entrepreneurs should make the maximum use of this opportunity.
He said the government has been keen on reversing the brain drain by creating more facilities and necessary conditions for the educated and talented people to remain in the country. Appreciating the course content of the Entrepreneurship Management Certificate Course, the secretary noted the contribution of small and medium scale enterprises are critical for economic prosperity.
NCC Chairman Asoka Hettigoda, Colombo University HRAI Director Dr Rohan P. Perera and NCC Secretary Sujeewa Samaraweera also spoke. Thirty three students who completed the course successfully were awarded certificates on the occasion.
Courtesy: Daily News