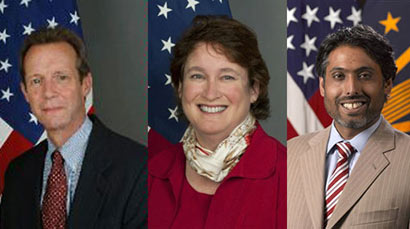 By Walter Jayawardhana
Amidst concerns expressed about Sri Lanka's impeachment of the Chief Justice three top officials of the US state department are scheduled to visit Sri Lanka next week.
Deputy Assistant  Secretary of State James Moore, Deputy Assistant Secretary of State Jane Zimmerman and Deputy  Assistant Secretary of Defense Vikram Singh will travel to Colombo from January  26 to February 1.  They will also proceed to Maldives from Colombo.
In Sri Lanka they are scheduled to meet with several high officials, members of some political parties as well as civil society representatives to discuss a wide range of issues including progress in implementing the recommendations of the post war commission known as the lessons learnt and Reconciliation Commission recommendations and national Action Plan.
Sri Lanka has been facing criticism over failure to prosecute those who were allegedly involved in human rights violations during the last stages of war with the LTTE.
Following a controversial impeachment process against the Chief Justice Shirani Bandaranayaka  by the Sri Lanka government and filling the position with Mr. Mohan Peiris the country faced more pressure from the United States.