U.S. punishing small nations: says president Rajapaksa
Posted by Editor on January 31, 2012 - 7:44 pm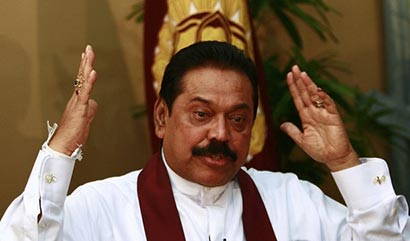 As the combined United States and European Union sanctions against Iran take effect, small nations like Sri Lanka are extremely worried. Sri Lanka depends almost entirely on Iran for its crude oil supplies and the only refinery in the country, Sapugaskanda, can only process Iranian crude.
"We are discussing on what we should do," Sri Lankan President Mahinda Rajapaksa said, when asked what the options before the country were. The Iranians provide a seven-month credit facility, and 93 per cent of the crude comes from Iran. A major part of the crude is converted to fuel oil at Sapugaskanda, a facility put up in the sixties and which is in dire need of renovation. Fuel oil powers the turbines to produce electricity. The President was answering questions from foreign correspondents based in Colombo, at a breakfast interaction at his official residence, Temple Trees.
"We need an alternative. Finally they [the US and the West] are not punishing Iran. They are punishing us, small countries," Mr.Rajapaksa said. Asked if Sri Lanka is considering approaching the U.S. for a waiver of the sanctions, he said: "We might. Otherwise how do we survive?"
Asked if the U.S. Embassy in Colombo had written to the Central Bank of Sri Lanka warning the Bank not to make dollar payments to Iran, the Central Bank Governor, Ajith Nivard Cabraal said that the general sanctions have been notified. "There has been no real interaction so far," he said.
Mr.Rajapaksa said that Sri Lanka was also considering approaching China and India for help. Asked if Sri Lanka will follow the example set by India – India has said will not be guided by US sanctions, only UN sanctions – he said that this has to first be studied.
On the question of modernising the refinery, Mr.Rajapaksa said that discussions were on with a few countries, including Canada and the Czech Republic. In fact, the Czech Export Bank had, last year, written to the Ceylon Petroleum Corporation, detailing its interest in participating in modernisation of the plant.
Meanwhile, the US Assistant Secretary of State and former US Ambassador to Sri Lanka, Robert O' Blake is expected to visit Colombo and hold discussions with leaders here. Also expected is the much-delayed visit of an Indian Petroleum Ministry delegation in the first week of February.
Source: The Hindu
Latest Headlines in Sri Lanka