Sri Lanka bank clarifies IMF interest rates
Posted by Editor on January 31, 2012 - 7:30 pm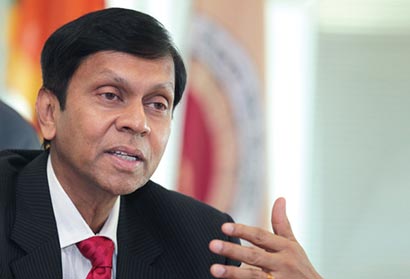 Sri Lanka's Central Bank said it would only have to pay a higher interest rate for International Monetary Fund loans exceeding 300 percent of the country quota, and lower balances would only attract a rate of a little over 1.0 percent.
Media reports quoted Central Bank Governor Nivard Cabraal to have said that  Sri Lanka would have to pay as much as 3.1 percent for the full loan if all the money was drawn down and the island would not be taking the balance money.
The clarification issued by the Central Bank of Sri Lanka on the Recent Media Reports on IMF-SBA Programme said that  the IMF approved a Stand-By- Arrangement facility (SBA) of SDR 1.65 billion (equivalent to US dollars 2.6 billion) in 2009, which is equivalent to 400% of the country's current quota with the IMF.
So far, Sri Lanka has received seven tranches amounting to US dollars 1.7 billion under the SBA and this is still lower  than 300% of the quota. The applicable interest rate for the loan is SDR rate (SDR rate is calculated every week and published on IMF website, which is currently 0.1%) plus a fixed margin of 1% p.a. for disbursements up to 300% of the quota.
Therefore, the interest charge for the present outstanding of US dollars 1.7 billion is 1.1% p.a. However, if the disbursements exceed 300% of the quota, a surcharge of 2% will be added on top of the present interest rate for the credit outstanding above 300%.
Source: Government News Portal
Latest Headlines in Sri Lanka