Udaya's defection underscores need to change political culture – Champika
Posted by Editor on December 13, 2014 - 7:51 am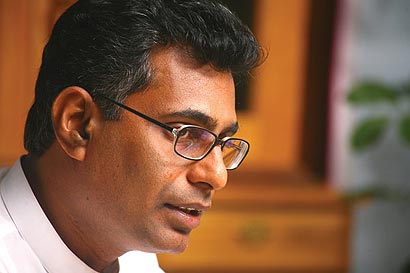 The switching of allegiance by the party's Deputy General Secretary Udaya Gammanpila to President Mahinda Rajapaksa would not affect the JHU at all, Jathika Hela Urumaya General Secretary Patali Champika Ranawaka said yesterday.
Ranawaka said, "Gammanpila's defection and change of stance clearly demonstrated the urgent need to change the political culture in the country which was detrimental to the country and it is a system created by the Rajapaksas to feather their nests at the expense of others."
Addressing a news conference at the JHU headquarters at Battaramulla, the former Technology and Research Minister of the UPFA government said Gammanpila had agreed to conditions laid down in the MoU signed on December 1 and he was one of the main architects of drafting the proposals put forward to the President urging political and economic reforms, ratified at the JHU convention.
Responding to a query how Gammanpila's switching of allegiance would affect the party's future, the JHU stalwart said it was minimal as there were thousands of educated men and women ready to join the party to create a system which would take the country forward. "With them we will launch our campaign to change the corrupt and repressive political culture prevalent in the country."
JHU Leader Ven. Omalpe Sobhitha thera said Gammanpila had ever since leaving the government repeatedly said that he would abide by the party whatever decisions it took and none of them were in a position to comprehend what had made him change his mind.
(The Island)
Latest Headlines in Sri Lanka