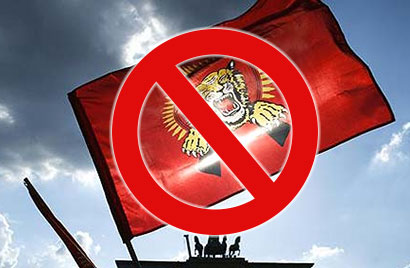 The British Government has announced new measures to prevent convicted terrorists funneling money from UK charities to extremist groups. If the British Government is sincere about confronting the 'menace of extremism' by ensuring that the Charity Commission is given new powers to prevent dangerous criminals misusing money that is donated to charities, the British Government needs to immediately start investigating the 16 LTTE fronts, their heads and the 424 individuals the GOSL has proscribed incorporating UN Security Council Resolution 1373 which is binding of UN member nations to extend support and cooperation for organizations listed. Some of the proscribed organizations are functioning from the UK, the individuals are employed by UK companies and they have been found guilty and removed from the UK Charity list giving all the more reasons for UK authorities to honor their claims to eliminate terrorism. UK authorities have been warned enough that not only are LTTE linked UK based organizations and individuals helping terror in Sri Lanka they are manipulating and defrauding money from UK taxpayers.
The organizations that UK Government, UK Charity Commission and UK Employers need to immediately probe
Liberation Tigers of Tamil Eelam a.k.a LTTE a.k.a Tamil Tigers.
Tamil Rehabilitation Organization a.k.a TRO.
Tamil Coordinating Committee a.k.a TCC
British Tamil Forum a.k.a BTF
World Tamil Movement a.k.a WTM
Canadian Tamil Congress a.k.a CTC
Australian Tamil Congress a.k.a ATC
Global Tamil Forum a.k.a GTF
National Council Of Canadian Tamils a.k.a NCCT a.k.a Makkal Avai
Tamil National Council a.k.a TNC
11.Tamil Youth Organization a.k.a TYO
World Tamil Coordinating Committee a.k.a WTCC.
Transnational Government Of Tamil Eelam a.k.a TGTE
Tamil Eelam Peoples Assembly a.k.a TEPA
15 .World Tamil Relief Fund a.k.a WTRF
Headquarters Group a.k.a HQ Group
These organizations are controlled and headed by
Perinbanayagam Sivaparan alias "Nediyavan";
Rev.Fr. SJ Emmanuel
Visuvanathan Ruthirakumaran
Sekarampillai Vinayakamoorthy alias Vinayagam
First of all the UK authorities and the general public need to realize that terrorists are not only Islamic groups. With UK banning LTTE under the UK Terrorism Act in February 2001 it baffles us as to how UK authorities have allowed LTTE to openly declare London as its UK office and UK MPs are regular attendees to pro-LTTE events organized by the very groups that Sri Lanka has now banned.
LTTE theoretician Anton Balasingham was travelling to and from London and his wife Adele who trained Tamil children as child combatants presenting each with a cyanide capsule with orders to commit suicide lives comfortably in UK still.
In terms of evidence the Human Rights Watch report 'Funding the final war – LTTE intimidation and extortion in the Tamil Diaspora, a case study of UK and Canada' details how LTTE fronts extort money in the range of £2000 to £100,000 from Tamil families and businesses. HRW even cites examples.
The report highlights Tamil gang violence with 16 killings in 2005 alone.
HRW alleges that British Hindu kovils provide revenue to the LTTE and Sivayogam Temple in Tooting has been under investigation for sending explosive under guise of humanitarian assistance during the 2004 tsunami. The LTTE boatyard in Sampoor was built from the UK kovil funds.
Annual remittances from extortion and other illegal businesses from the UK to the LTTE is said to be in the range of £10 million. Surely the UK authorities with such world famous intelligence agencies could not have been unaware?
If the UK Government now says it is curbing charities from funding terrorists, what we need to demand is what was the UK authorities allowing
Pro-LTTE organizations to hold 2 events annually on 27 Nov 2005 for Prabakaran's birthday at Wembley Arena with a gathering of 5000 at an entrance fee of £35 per head and 25 July 2006 at Hyde Park with permission obtained from Hyde Park by Labor Councillors Sashikala and Eliza Packiadevi. A 20ft cut of of Prabakaran was organized by the Tamil Youth Organization of which C4 star witness Vany Kumar is a member.
The British Tamil Forum organized a photo exhibition in the British Parliament in 2008 for which not only British MPs but TNA members also attended. When MP Neil Gerrard says 'making a clear case for self-determination' can the UK Government blame Sri Lanka for wondering if the UK is assisting organizations to separate Sri Lanka while pretending to fight terror?
UK authorities need to start explaining why it would choose to continue to provide VIP status to British Tamil Forum and Global Tamil Forum even after the Sri Lankan Government has proscribed them under UN Security Council Resolution 1373
Why did the UK authorities knowing the links allow BTF and GTF to be launched in the UK – BTF in 2006 and GTF in 2010 in the UK House of Commons in the presence of Foreign Secretary David Miliband despite Sri Lankan Government protesting?
With LTTE banned by the UK why does the UK Government watch UK MPs attend pro-LTTE events and if they are not pro-LTTE as is being alleged why does the UK authorities not investigate them?
Not only have British MPs addressed fundraising dinners of pro-LTTE organizations in the UK (13 Jan 2010 – The Barn Hotel/Harrow), MPs have spoken in Parliament (27 Oct 2010 – Siobhain McDonagh), MPS who attend these pro-LTTE events all call for investigations and COI against Sri Lanka, some 41 British MPs even wrote to British PM in 2011 and these names are all associated with the organizations that the GOSL has now banned.
When Britain is a key partner in the war against terror it is rather odd that the British House of Parliament would be allowed to be used by the World Tamil Conference on 10 November 2012 wherein the right to self-determination became a hot topic wherein calls were to stop Sinhalisation of 'Tamil Homeland'
The British Government has been very kind to offer its Parliament as venue for numerous other pro-LTTE events organized by entities banned by the GOSL – in February 2013 the Global Tamil Forum held its 3rd Conference in the British Parliament – Yasmin Sooka the EU employee was introduced as a Comrade at the conference. TNA's Sampanthan and Sumanthiran too attended, even the C4 Director
The arrests of the founder of the BTA Chrishanthakumar/Shanthan and Goldan Lambert in 2007 and their connections to the other pro-LTTE fronts now banned by the GOSL suffices for UK authorities to investigate them for a key component of their organizations is the efforts they make through false propaganda to raise funds and these funds are not for the Vanni Tamils but for the LTTE.
LTTE have been quick and sharp to create charities and human rights advocating organizations as camouflage for their true behind the scene activities. The Tamil Rehabilitation Organization, White Pigeon, the World Tamil Movement, the Tamil Coordinating Committee, the British Tamil Association, the British Tamil Forum, the Tamil Youth Organization, the International Tamil Rehabilitation Organization (which registered itself immediately after TRO was delisted – before TRO was banned it transferred its funds to White Pigeon. N Sathyamoorthy is a director of both TRO and ITRO) need to be all investigated to establish how much funds they raised, how the funds were raised, to whom the funds were channelled to, in what manner the funds were channelled and who were part of the entire process.
Thus what did the Tamil Refugee Action Group do with the British National Lottery grant of £78,450 given to them on 2 December 1998?
What did the Tamil Refugee Education and Training Centre do with the British National Lottery grant of £155,484 given to it on 4 March 1999
What did TRO do with the £2.5m raised since 1995 – was this money not sent tax free and as humanitarian aid/rehabilitation work. What is more the TRO staff are all employed in other organizations receiving salaries courtesy of the British tax payer so TRO does not have staff costs. This amounted to £1.5m – is this not defrauding the British Treasury and Her Majesty's Inland Revenue – Is the UK authorities prepared to turn a blind eye to these entities cheating the British tax payer and the British Government since it falls within the political objective of dividing Sri Lanka?
Lest anyone has doubts that these pro-LTTE banned entities are connected there are enough of examples to show otherwise.
Joint statements issued on 7 March 2012 by British Tamil Forum and Canadian Tamil Congress, Tamil Youth Organization UK, US Tamil Political Action Council
Joint fund raisers
Joint fund raising campaigns
Joint press releases
Portfolios held within each entity
The concern of the UK authorities that funds are getting funnelled to terrorists is commendable but it is nothing the UK Government were not unaware of. While the British PM is giving £8 million to the UK Charity Commission to tackle abuses is it not better for the UK authorities to take action before doing damage control after abuse has happened?
If the Commission has started investigating 16 British charities we are hopeful that the LTTE charities have also been included and if not they would include the proscribed entities as well.
However the list looks to be mostly Islamic. The Muslim Charities Forum is said to fund Hamas.
Human Appeal International – proscribed as a Hamas affiliated organization
Islamic Relief – raised over £100 million receiving donations from Yemeni charities. The British government granted £1.5 million of taxpayers' money to Islamic Relief's UK branch.
Human Relief Foundation – seniors members of Al Islah, a UAE based branch of the Muslim Brotherhood.
Islamic Help – funds the Islamic Society of Gaza, alleged Hamas-run organization
Muslim Aid – established by activists from Jamaat-e-Islami linked to Muslim Brotherhood as well as Chowdhury Mueen-Uddin, the British Muslim community leader convicted by Bangladesh war crimes tribunal
Muslim Hands – raised £1.5 million of taxpayers' money to Islamic Relief's UK branch.
Orphans in Need – funds Gaza-based Palestinian Welfare House
READ Foundation – partners with World Association of Muslim Youth and Qatar Charitable Society. The British government granted £189,550 to the READ Foundation.
Al-Imdaad Foundation – South African charity partnered with Viva Palestina a pro-Hamas charity
Nevertheless, a good look at terrorist organizations will reveal that they are in turn connected to very powerful governments who use these terrorist organizations as pawns and then go after them once their use is over. That however, does not serve the general public in Britain and unless and until the nationalities of these powerful nations realize that there is more to terrorism than what is shown to us over media owned by the very entities that creates these terror outfits, not only is the war on terror a joke but the UN mandated to maintain peace has become a laughing stock as well.
From what the British Government says about dealing with terrorists and terrorist entities and what the British Government has been doing leaves little for anyone especially British citizens to feel any safer.
Looking at the manner LTTE fronts have been openly raising funds from Britain and assisting in LTTE terror with the knowledge of the British Government knowing that British tax payers have been cheated can be dealt if and only if the British Government begins investigations on the organizations and leaders proscribed by the GOSL
– by Shenali D Waduge