UK to investigate claims of Tamil rape victims being deported
Posted by Editor on June 11, 2014 - 9:35 am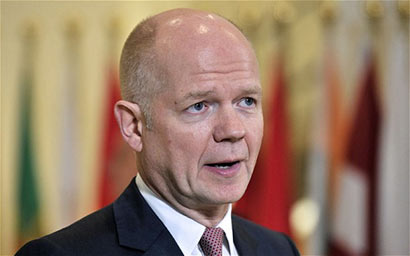 William Hague has said the UK government will investigate claims that Tamil asylum seekers are being deported from the UK to Sri Lanka despite evidence they have been subjected to rape and sexual abuse.
Refugees, their lawyers and advocacy groups made the allegations on Tuesday on the opening day of the Global Summit to End Sexual Violence in Conflict, hosted by the UK, which has faced accusations of hypocrisy over the issue.
Lawyers even reported an acceleration of deportations of Tamils in recent weeks, which they believed has been triggered by anticipation of new Sri Lankan guidelines expected to bolster the cases of Tamil asylum seekers fleeing torture.
The foreign secretary pointed out that asylum decisions were handled by the home secretary, Theresa May, but that the Foreign Office contributed to country-by-country assessments of human rights. He promised an investigation and training for immigration officers to make them more sensitive to the plight of rape victims.
"We are a country that is open to asylum seekers. We uphold our standards very strictly and, whenever anyone thinks we are not doing that, we are always happy to investigate," Hague said.
"I particularly discussed with [May] already the importance, which she fully agrees with, of our immigration officers being trained in how they deal with people who have suffered sexual violence abroad.
"These things are discussed across government. They will continue to be. Where people have a valid point, a valid complaint, we will take it up. This is something the whole government feels strongly about. So be in no doubt: where there are issues, we will investigate them."
Hague was speaking at the start of the summit he is co-hosting with Angelina Jolie, serving as special envoy of the UN high commissioner for refugees.
Jolie said she would be talking to female Tamil refugees in Britain during the four-day summit to hear about sexual violence in Sri Lanka and would raise the issue when she meets the high commissioner, António Guterres, at the conference on Thursday.
A Home Office spokeswoman said Tamil refugees' complaints would be reviewed before commenting on their status.
Five years after the Sri Lankan army crushed the LTTE, human rights groups have reported continued abduction, torture, rape and other sexual violence against both male and female members of the Tamil minority.
A report this year by Yasmin Sooka, a member of the Bar Human Rights Committee of England and Wales, found that "abduction, arbitrary detention, torture, rape and sexual violence have increased in the postwar period".
In a foreword to the report, Desmond Tutu, the South African archbishop emeritus, said: "I find it horrifying that almost half the witnesses interviewed for this report attempted to kill themselves after reaching safety outside Sri Lanka."
The conference at the ExCel centre in London brings together government ministers from more than 100 countries, including the US secretary of state, John Kerry, as well as activists and aid organisations.
The aim is for states and their security forces to sign up to a code of conduct aimed at preventing rape and other sexual abuse in conflict and agree to a protocol to ensure evidence of sexual violence is properly collected, crimes prosecuted and victims supported. On Tuesday Hague announced £6m in new UK funding for victim support.
Jolie said her joint two-year campaign with Hague leading up to the summit would only start making a real difference to the lives of war victims once the agreements made in London were implemented.
"For me it's going to be when I start to see prosecutions, when I start to see the evidence being collected, used in court, and the victims start to see the people that abused them pay for their crimes," Jolie said.
"When we start to see that regularly, we will know that there has been a change. That will start to not only change countries and communities and people's perceptions and make people think differently about the stigma of what they go through, but it will also prevent future situations. These things happen because people are sure they can get away with it."
Jolie and Hague said they would both continue to campaign for the protocol and other commitments by the world's governments, calling the London conference "just the beginning". Jolie, who has recently hinted she may retire from acting, vowed to keep campaigning against rape in war. "If there is more to be done, I will certainly do that. I'm committed to this for as long as it takes," she said.
However, the further the UK goes with its campaign against sexual violence abroad, the more the Home Office is likely to face pressure over its asylum practices, particularly in regard to Sri Lanka.
In Home Office documents released under a freedom of information request from advocacy group Freedom from Torture, the UK Border Agency admitted deporting 15 Sri Lankan nationals since 2009 who were then tortured by government security services on their return.
"It is very clear torture is still a common practice in Sri Lanka for both the police and military," said Jean-Benoit Louveaux, Freedom from Torture's policy and advocacy manager.
"In many of the cases we have examined in detail the victim disclosed, and our clinicians documented, evidence of sexual forms of torture including rape (anal, vaginal, oral and/or instrumental), beatings on and violence to the genital area, sexual molestation and individuals being forced to commit sexual acts on others."
In many cases, the Home Office appears to disbelieve asylum seekers, despite medical opinion supporting torture claims.
In the case of Thiru, a 25-year-old Sri Lankan Tamil facing deportation and showing increasing signs of trauma while in detention at the Brook House immigration removal centre at Gatwick, a doctor's medico-legal report in January said: "My professional opinion, from the physical and psychological evidence presented to me, is that there is nothing in the clinical picture to suggest a false allegation of mistreatment. On the contrary, [he] displays clinical symptoms and observed features which in my opinion are highly compatible with a history of torture."
Kulasegaram Geetharthanan, an immigration lawyer who says he has been involved with deportation cases of torture victims in the past few weeks, said: "It is shocking. We have plenty of forensic evidence to show a lot of our clients were subjected to rape during their time in detention, yet the British government is not even staying their deportations."
He added: "In my experience the [Foreign Office] is being elusive and showing double standards on this question. They're well aware of what is going on in Sri Lanka."
The Home Office said: "The UK has a proud record of offering sanctuary to those who need it, but people who do not have a genuine need for our protection must return to their home country. Each claim for asylum is carefully considered and where we find individuals are in need of our protection, for example if they are at real risk of torture or ill treatment on return, asylum in given, the Guardian reports.
(Courtesy: Ada Derana)
Latest Headlines in Sri Lanka