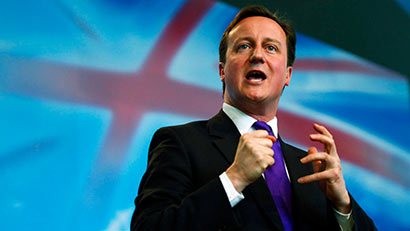 LONDON: Britain will vote for an international, independent investigation into alleged war crimes in Sri Lanka.
British Prime Minister David Cameron said on Friday it will vote in favour of the resolution on Sri Lanka at the upcoming United Nations Human Rights Council that has been moved by the US.
Cameron said he wanted to see reconciliation in the country which "president Mahinda Rajapaksa has failed to do".
Regarding an international probe into war crimes against Sri Lanka, Cameron said "The UN Human Rights commissioner has called for this and that is what a UK co-sponsored resolution at the UN Human Rights Council supports."
A US-led resolution calling for an international probe into allegations that 40,000 civilians were killed at the end of Sri Lanka's separatist war was filed recently.
In a draft resolution, US and UK have endorsed UN human rights chief Navi Pillay's recommendation for an external investigation into alleged war crimes in the final stages of Sri Lanka's Tamil civil war in May 2009.
At least 100,000 people were killed in the 37-year conflict before the Sri Lankan army crushed the LTTE.
Welcoming the progress which has been made by Sri Lanka in areas like reintegration of child soldiers, demining and reconstruction of conflict affected areas, the UK said it strongly believes "that, without a credible investigation in to very serious allegations of the past, it will be very difficult for the Sri Lankan people to move forward in the true spirit of lasting peace, reconciliation and unity and for Sri Lanka to reach its true potential".
Britain has earlier issued a warning that in the absence of an independent investigation in sexual crimes carried out by government forces in Lanka, "pressure would mount for an international investigation including from the UK".
On Feburary 24, Pillay released her report on the promotion of accountability and reconciliation in Sri Lanka following her visit to Sri Lanka last August. (Times of India)