Promo's ill-timed outburst
Posted by Editor on March 23, 2014 - 8:32 am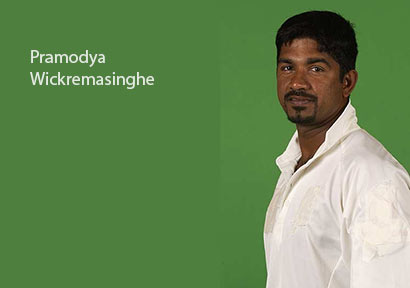 Pramodya Wickramasinghe appears to have made a mountain out of a mole hill over the announcement made by two former Sri Lankan captains Kumar Sangakkara and Mahela Jayawardena on their future in T-20 cricket.
Selector Pramodya's contention is that they have not briefed the selectors and SLC before announcing their decision to retire. That is a flimsy excuse good for the gullible.
Why the big fuss? Their decision was in no way detrimental to SLC. On the contrary it was a plus point as they would make room for young players who are in the wings to enter the big league.
What mattered most was that they made it clear that they would continue in the one day format of the game till the 2015 World cup in Australia and New Zealand.
That was what the Sri Lankan cricket fans were hoping for. Here are two icons in the game. Sanga and Mahela have found SLC a place in the Sun with their brilliance as two of world's great exponents of the willow, which has brought honour and glory to our country.
They are gentlemen who hail from respectable families. Who is Promo to find fault with them on an issue of no significance. This scenario smacks of politics which has been the bane of SLC.
Is Pramodya so dumb that he failed to realize that England's key spinner of the cherry Graeme Swann dropped a bomb shell when he announced his retirement from cricket after the third Test in middle of the Ashes campaign down under?
The ECB accepted his retirement without making a hue and cry. Those running ECB know their business unlike the square pegs in round holes at SLC.
I believe that the bottom line to this fiasco is politics where board members had an axe to grind with Sanga.
Pramodya's outburst was ill-timed as well as it came at a point when the national cricketers were concentrating on the World T-20. The country has not won an ICC event for 18 years since Arjuna's brave lions tamed the Aussies in Lahore on the 17th of March 1996. Here we have a perfect opportunity for an encore. Let's not spoil those chances by upsetting the players' mindset and engaging in petty politics.
Like millions of Sri Lankan cricket fans, I am hoping the team will go the full distance and will clear the final hurdle too unlike the last four times where we came second best in the final. (The Island)
Latest Headlines in Sri Lanka