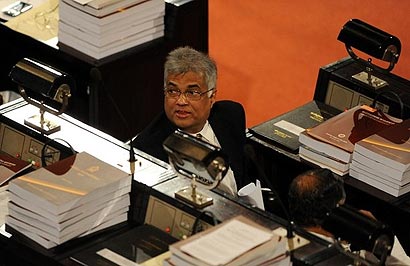 UNP and Opposition Leader Ranil Wickremesinghe yesterday said in Parliament that his party would fully support the passing of the 19th Amendment to the Constitution proposed by JHU's Ven Aturaliye Ratana Thera to reduce the powers of executive presidency if the government brings it as an urgent Bill in November this year.
Wickremesinghe, raising a point of order, demanded to know the government's position on the proposed 19th amendment to the Constitution. "There were some stories on websites that the Government plans to introduce the 19th Amendment proposed by JHU MP Ven. Aturaliye Ratana Thera to Parliament next month. The UNP supports this Bill but we would like the government to discuss it with us before it is presented to the House."
He asked whether the government was ready to bring up the proposed amendment next month prior to the forthcoming Presidential polls and wanted to know whether the latter had plans to bring about it as an urgent bill. "If so, I think it is better if the government and we can sit together and discuss about it before it is presented in Parliament. We are also supporting Rathana Thera's proposed19th Amendment to the Constitution," he said.
Government MPs interrupted the UNP leader and accused him of planting stories in websites and later raising them in Parliament.
Galle District MP Manusha Nanayakkara: "This is a story that you have planted in a news web. Now you raise the same issue here."
Wickremesinghe: "I have not issued or planted any story in any news site. All I wanted to know from the government was whether there is such a move. If there is any move to bring it, we can discuss and pass it in Parliament without wasting time debating it because we are in agreement with most of the recommendations and have decided to support the 19th Amendment proposals.
"I just wanted to avoid unpleasant scenes occurring like when government brought in the 18th Amendment. The Leader of the House is in the chamber and he can respond to me and I don't know why all other backbenchers got worked up."
Leader of the House, Irrigation Minister Nimal Siripala de Silva said that the Government would not act on gossip or rumours.  "If we want to introduce the Bill, we will do it. We are not swayed by gossip and rumors that appear on different websites".
(Courtesy: The Island)